The US Navy has completed the first in-flight test of Collins Aerospace's Tactical Combat Training System II (TCTS II), a system that could become the brains behind future large-scale virtual dogfights.
The service tested the system on a US Navy (USN) F/A-18E Super Hornet at NAS Patuxent River, Maryland, Collins Aerospace says.
TCTS II's wing-tip mounted pods, integrated into ground stations and onboard computers, allow naval aviators to dogfight without actually firing a shot. The system allows virtual firing of missiles and guns.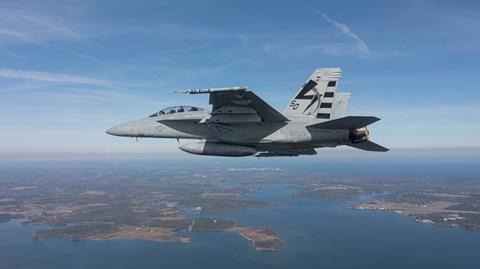 The system features a number of improvements versus older combat training systems, Collins said on 1 February.
Unlike prior legacy systems, "TCTS II connects to the aircraft weapons bus securely, which provides access to classified aircraft data, and then pushes and pulls data," says the company. "When it pushes data, it stimulates aircraft systems and sensors, so the pilot thinks they are engaging with real threats."
It can simulate situations where the aviator uses a jet's active electronically scanned array radar or infrared search-and-track sensor. The system can also simulate a number of weapons, from unclassified operational munitions to those classified Top Secret. And, TCTS II can deliver real-time kill notifications.
"What starts the simulation is when the pilot pulls the trigger in the aircraft just like in a real mission," says Collins. "It also sends a signal to the ground and range training officer's screen, showing them a sim weapon has been launched. Algorithms then run that calculation, the likelihood of a good shot in percentages, and display that to the range training officer."
The simulation also can be manipulated by personnel on the ground.
"The range training officer can then decide if they want that shot to count – and remove the targeted platform from the exercise – or overrule the simulation to allow that platform to continue fighting for training purposes," says Collins. "The shot would then be debriefed later with all interested parties and the accuracy of the shots can then be discussed."
During combat training simulations, TCTS II collects data that can later be reviewed to develop new tactics, techniques and procedures. Collins claims this speeds up development times to a "matter of weeks, instead of months or years".
TCTS II can simulate a variety of combat training, from two-on-two dogfights to exercises with more than 200 participants, the company says. It can also simulate threats from ground-based weapons.
The first flight of TCTS II on the F/A-18E is part of the developmental test phase. Collins anticipates it will pave the way for a USN production decision later this year.
The system is expected to be qualified on every aircraft in the service's fleet, including Lockheed Martin F-35 stealth fighters.