The first Boeing T-7A advanced jet trainer has entered production.
The US Air Force (USAF) jet is likely to roll out of Boeing's St. Louis, Missouri factory in late 2021 or early 2022, says Chuck Dabundo, Boeing vice-president of T-7 programmes. That initial engineering and manufacturing development aircraft will be used for flight testing by the USAF.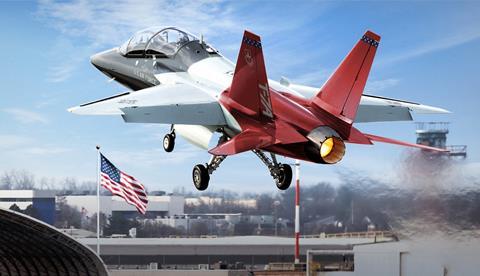 "We will be delivering our first aircraft to Randolph Air Force Base in 2023," says Dabundo. "And, that would leave the [initial operating capability] for the programme in 2024."
In the meanwhile, Boeing is using two company-owned production-representative jets for the initial phase of testing.
Saab partnered with Boeing on the development and production of the T-7A. The company provides the aft fuselage of the jet. The first production aircraft aft section is being built in Sweden and is expected to arrive in St. Louis within about a month.
The production rate of the aircraft will gradually increase, says Boeing.
"We'll start off slow going at about the rate of one per month, and eventually ramp up to about four or five per month, over the initial three or four years into production," says Dabundo. "The factory is sized for more than that, so we can handle additional capacity for variants for international customers."
Boeing is projecting that T-7A production will last over the next couple of decades. The company is on a $9.2 billion contract with the USAF to supply 351 advanced trainers and 46 ground-based training simulators.
The company has said it believes there is a global market for 2,600 T-7s, both as trainers and light-attack or aggressor aircraft. It declines to say who are prospective customers.
The company also has disclosed that it is in talks with the US Navy (USN) about its need to replace the Boeing/BAE Systems T-45 Goshawk jet trainer. The service wants a non-developmental replacement aircraft ready to be fielded by 2028, according to a request for information posted in May 2020. The USN has 194 examples of the T-45 in its fleet, according to Cirium fleets data.
Boeing notes the discussions are preliminary, as the USN has yet to issue a request for proposals or launch a programme of record.
"We're working closely with them to answer questions about the platform and its capabilities," says Dabundo. "And, we're hopeful that that we'll be able to play a role in the navy's training systems as well."


Garrett Reim is a military aviation reporter based in Los Angeles. He reports on military aircraft manufacturers and operators in North and South America. Send him your confidential tips, press releases and story ideas via garrett.reim@flightglobal.com. Follow him on Twitter via @garrettreim.