Airbus Defence & Space has delivered a specially produced C295 to the Royal Canadian Air Force, with the service to employ the asset as a ground-based aircraft maintenance trainer (AMT) in support of its future fixed-wing search and rescue (FWSAR) fleet of the twin-turboprops.
Flown from the airframer's San Pablo final assembly site in Seville, Spain in late January, the dedicated trainer was transferred to Comox, British Columbia, via visits to Trenton, Ontario, and Winnipeg, Manitoba: additional operating locations for Ottawa's future CC295 inventory.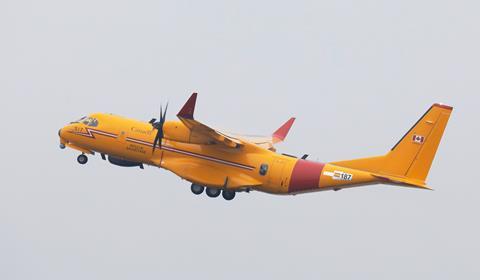 "The arrival of the AMT is an important one on the overall journey towards operational implementation of the CC295 fleet," says Isabelle Latulippe, FWSAR project manager.
Following disassembly, the asset will be installed inside a new FWSAR training centre at the Comox site. "It will be used to instruct technicians on the removal and installation of various aircraft parts and components, and other aspects of hands-on maintenance, before they conduct work on operational aircraft," the air force says.
Deliveries of Canada's 16 operational CC295s will commence later this year, with its first example having been accepted last December in Seville, where it is currently supporting personnel training.