A Canadair CT-114 Tutor trainer operated by the Royal Canadian Air Force's Snowbirds team has crashed during a demonstration routine.
The accident occurred during the late morning of 17 May, the service says.
One crew member was killed and another was injured, the air force says. Media reports from the site of the crash report that a house was set ablaze.
Social media shows a pair of CT-114s performing a low pass over a group of observers. One pulls up into a high left bank. After gaining some altitude it abruptly pitches left and dives to the ground. Two crew members ejected seconds before impact.
An image on a Canadian news report showed an orange and white parachute draped over a house.
Media reports indicate that the performance had been delayed from earlier in the morning owing to weather. The sky in the crash footage is still overcast.
In late April, the display team, which operates with a nine-aircraft formation, announced that it would travel the country performing flying displays to salute Canada's efforts in response to the coronavirus pandemic.
Designed in the 1960s, the CT-114 was Canada's primary trainer until its replacement by the Textron Beechcraft T-6 (designated CT-156 in Canada) and the BAE Systems Hawk (designated CT-155).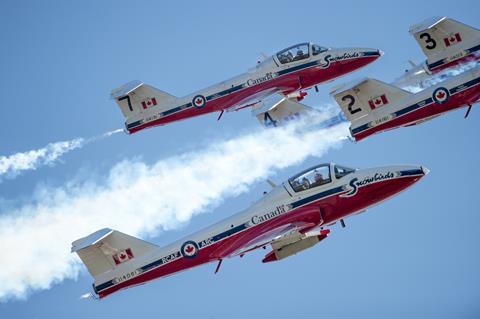 The CT-114 is powered by a single General Electric J85 turbojet that was locally produced by former Canadian firm Orenda Engines.
This is the second Snowbirds crash within a year. At a show in Atlanta, Georgia in October 2019, Snowbird 5 was forced to eject after losing thrust at low altitude. The pilot suffered minor injuries, but the aircraft was destroyed.