The US Department of Defense and Australian Department of Defence have joined forces to develop an air-breathing hypersonic missile called the Southern Cross Integrated Flight Research Experiment (SCIFiRE).
The effort is intended to advance air-breathing hypersonic technologies by designing, building and test-flying multiple prototypes, the Pentagon said on 30 November.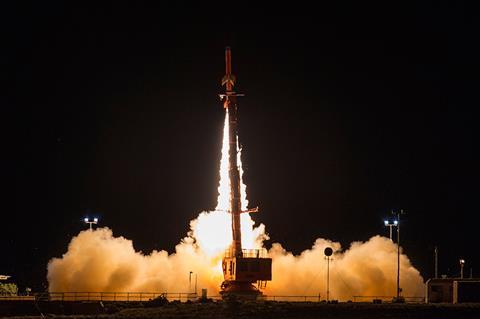 "SCIFiRE is a true testament to the enduring friendship and strong partnership between the United States and Australia," says Michael Kratsios, US acting under-secretary of defence for research and engineering. "This initiative will be essential to the future of hypersonic research and development, ensuring the US and our allies lead the world in the advancement of this transformational warfighting capability."
The SCIFiRE effort's goal is to build multiple full-size prototypes that are "affordable and provide a flexible, long-range capability, culminating in flight demonstrations in operationally relevant conditions", says the DoD.
The Pentagon does not disclose what specific air-breathing technologies will be worked on. Typically, air-breathing hypersonic technologies refer to scramjet engines, a sort of ramjet that functions at speeds greater than Mach 5. The DoD also does not say when the technology might be flight tested.
The DoD says the SCIFiRE project will leverage previous work from the Hypersonic International Flight Research Experimentation (HIFiRE) programme, another co-development effort between Washington and Canberra that began in 2006. HIFiRE was a collaboration between NASA, the US Air Force Research Laboratory and Australia's Defence Science and Technology Organisation to improve scramjet engine know-how.
The SCIFiRE effort is a product of the DoD's Allied Prototyping Initiative, launched in 2019 to develop and manufacture "leap-ahead technology" with the USA's closest allies.
"[Allied Prototyping Initiatives] are built on the notion that partnering with our allies and friends will maximise modernisation through shared ideas, increase interoperability to fight alongside each other and reduce vulnerabilities as we tackle shared challenges while boosting each other's supply chain," says the DoD's office of the director of defence research and engineering for advanced capabilities.
The first Allied Prototyping Initiative was a partnership announced in April between the DoD and the Norwegian defence ministry named THOR-ER (Tactical High-speed Offensive Ramjet for Extended Range). That development project is intended to advance solid-fuel ramjet technologies.