Air India will lease five Boeing 777-200LRs and twenty-five Airbus A320neo-family jets in its first major fleet expansion since being fully acquired by the Tata Group.
The leased jets will enter service from late 2022 and will represent a 25% addition to Air India's fleet, says the carrier.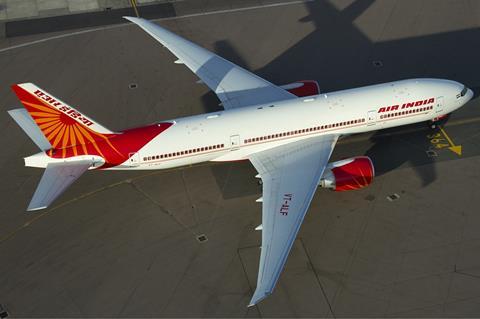 The 777-200LRs will arrive between December 2022 and March 2023, and will operate services from Indian cities to the USA. Routes will include Mumbai to both New York and San Francisco, and a direct flight from Bengaluru to San Francisco.
The 777-200LRs will also see Air India introduce premium economy on long-haul flights.
Air India formerly operated eight 777-200LRs, but it divested these aircraft in the mid-2010s owing to the aftermath of the global financial crisis in 2008-09, and the high cost of fuel at the time.
As for the Airbus narrowbodies, four A321neos will join in the first quarter of 2023, with 21 A320neos arriving in the second half of 2023. These will serve domestic routes and short-haul international destinations.
Air India did not name the lessors involved, or the value of the transactions.
In addition, 10 Air India narrowbodies and six widebody jets have returned to service in recent months.
"After a long time without significant growth, Air India is delighted to resume expanding its fleet and global footprint," says airline chief executive Campbell Wilson.
"These new aircraft, together with existing aircraft being returned to service, address an immediate need for more capacity and connectivity, and mark a strong step forward. Air India has exciting expansion and renewal plans, of which these new aircraft are just the beginning."
Air India, which was acquired by Tata Group in early 2021, has a narrowbody fleet of 70 aircraft, of which 54 are operational. It also has 43 widebodies, of which 33 are operational.