Cebu Air, the parent company of Cebu Pacific, is reviewing its long-term fleet plans, and has begun discussions with suppliers "to establish flexibility to adapt to current events".
In line with anticpated lower aircraft utilisation in future, the company will also defer previously planned aircraft capital expenditures, it said in a 15 May stock exchange disclosure to allay media reports about its financial health.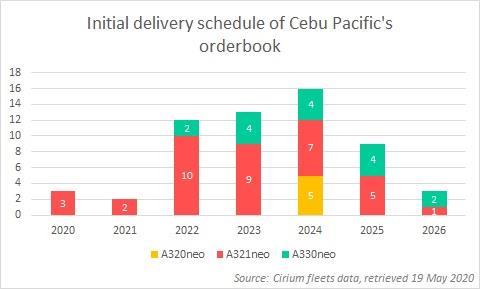 Captial expenditure will be reduced from Ps28 billion ($552 million) to Ps13 billion, and non-disrectionary spending cut.
"We have likewise started discussions with government, seeking support through grants and loans alongside fee waivers and regulatory relief," it says.
The company says that compared with other low-cost carriers, its fleet growth plan was already conservative, at 8-9% over five years.
Cirium fleets data shows Cebu Pacific Air has 58 aircraft on order: 42 A320neo-family jets and 16 A330neos. Regional operator Cebgo has three ATR 72-600s on order.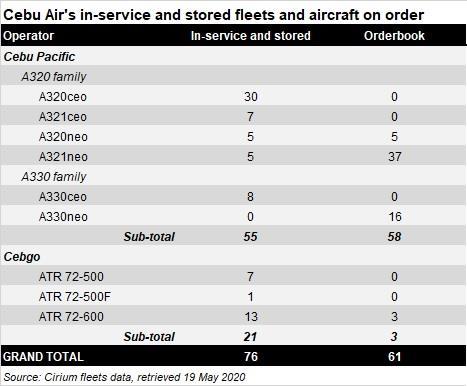 Cebu Air says 2019 was "a remarkable year" but Covid-19-related quarantine measures and travel restrictions prompted it to suspend all passenger flights from mid-March.
The company's passenger numbers grew 11% year on year in 2019, while load factor gained nine percentage points to 86.4%. Total revenues were up 14%, to P84.8 billion and net income more than doubled, from Ps3.9 billion in 2018 to Ps9.1 billion in 2019.
In contrast, passenger numbers fell 17% year on year in the three months to 31 March. Revenue declined by 25%, to Ps15.9 billion and it ended the quarter Ps1.18 billion in the red. As of 19 April, forward bookings for the next five months show 14% of seats sold, against 28% in the year-ago period.