Argentine low-cost carrier Flybondi has issued a request for proposals to lessors covering five more Boeing narrowbodies for 2023 as it expects its fleet to reach a dozen aircraft by year-end.
Speaking during a media briefing at the ALTA Airline Leaders forum in Buenos Aires on 17 October, Flybondi chief executive Mauricio Sana reported progress in the carrier's plan set out a year ago to double the size of its pre-pandemic operations.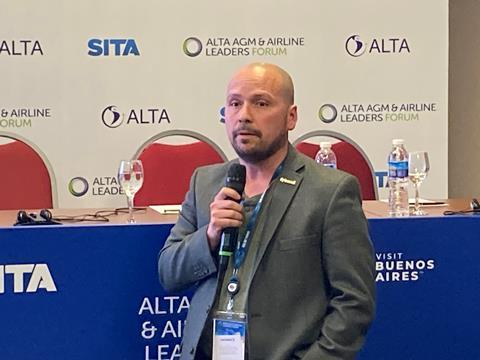 "First we need more planes. If we want to double the passengers, we need to double the fleet," he says.
Flybondi had been operating five Boeing 737-800s and earlier in October took its eighth Boeing narrowbody. "Next month we should be completing the doubling of our fleet to 10 aircraft," Sana says. "We hope we can incorporate two more aircraft by the end of the year, so our fleet will be 12 aircraft."
He adds the airline has also just issued an RFP for five more aircraft for delivery next year to take its fleet up to 17. "With this fleet, we could be operating by the end of 2023 in all Argentine provinces," he says.
Citing load factors of 94%, Sana however notes the airline has already doubled its market share, according to September data, on domestic routes from 9% to 18%. During the same month, the airline carried around 200,000 passengers – 87% more than in September 2019.
"Our goal is to carry 5 million passengers in 2023," he adds. Flybondi carried 1.5 million passenger 2019 before the pandemic.
Flybondi launched in 2018 amid an opening of route rights in the country, operating predominantly domestic flights. The airline currently has five of its 737s based at Buenos Aires Ezeiza airport and three at the city's downtown Aeroparque International Jorge Newberry airport.