Norwegian is hopeful it can reach an agreement with Boeing on compensation for its grounded 737 Max fleet by the end of the year.
The Scandinavian budget carrier was one of the first airlines to demand compensation from the US manufacturer over the grounding of the Max in the wake of two fatal crashes.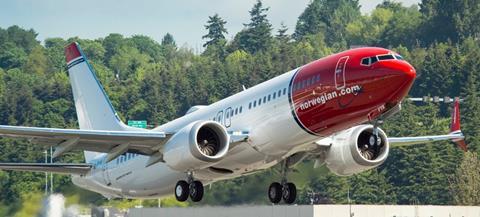 In a video message posted on social media network Twitter in March, Norwegian's then-chief executive Bjorn Kjos said the airline would "send the bill to those who produce this aircraft", to cover the cost of deploying alternative jets on routes previously operated by the Max.
Speaking on a podcast released 18 December by Norway-based investment bank DNB Markets, Norwegian's acting Geir Karlsen said that he hoped "to come to an understanding" with Boeing "before the end of the year".
He expects that, in addition to compensation, the agreement will cover "a new schedule of plane deliveries".
Norwegian had 18 Max jets in service at the time of the aircraft's global grounding. Cirium fleets data shows that the carrier has a further 92 Max jets on order.
The airline said in July that the grounding would negatively impact its 2019 financial results by NKr700 million ($78 million).
It is not yet clear when the Max will be cleared by regulators to take to the skies again. Boeing will suspend 737 production in January and Southwest Airlines has pushed the return of the Max to its flight schedule from early March to mid-April.