The US Army has flown a Boeing CH-47 Chinook with a more powerful GE Aviation T408 turboshaft for the first time.
The initial test flight is the product of a cooperative research and development agreement between the US Army, Boeing and GE to evaluate the feasibility and technical risks involved with adding a more powerful engine to the cargo helicopter.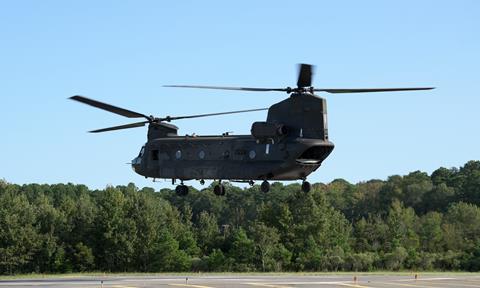 GE's T408 produces 7,500hp (5,593kW), which is about 56% more than the Honeywell T55 currently used on the CH-47. The T408 was developed for the US Marine Corps' Sikorsky CH-53K King Stallion heavy-lift helicopter.
Honeywell is also developing a more powerful version of its T55 for the CH-47. That engine is dubbed the T55-GA-714C and it generates 6,000hp. The company only announced a development agreement with the US Army in June and its turboshaft generates 25% less power than GE's proposed engine. However, Honeywell claims the T55-GA-714C is more fuel efficient and would be easier to install because it does not require airframe changes.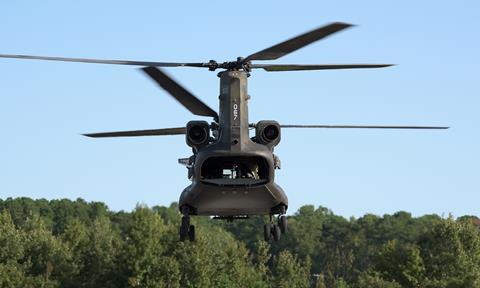 The recent flight test of the T408-equipped Chinook included a hover and pedal turn testing, says the US Army.
"Future flights are expected to include both hover and forward flight manoeuvres at several gross weight configurations," says the service. "Flight tests are anticipated through the end of the year, including a flight demonstration event for army and industry senior leaders to showcase [the US Army Combat Capabilities Development Command Aviation & Missile Center's] vehicle integration capability."
Ultimately, the service will review test data to determine how feasible or risky integrating new engines into the Chinook would be. It would also have to be decided how many CH-47s would be retrofitted with more powerful engines and how many new-build helicopters the service is interested in.