TAP Air Portugal is planning to operate 700 flights per week in September, bringing its network to around 40% of its pre-coronavirus level.
That will mark an increase of 200 weekly flights from the 500 it plans to operate during August.
TAP's network ramp-up comes after an early July announcement that the Portuguese government had increased its stake in the carrier – with Azul founder David Neeleman selling his interest – in a bid to prevent bankruptcy.
The airline had suspended most of its flights on 1 April and temporarily laid off 90% of its employees.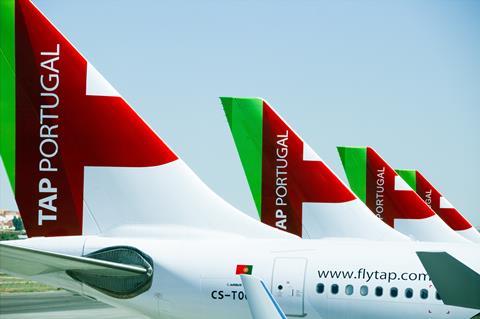 As part of a restart plan aimed at securing the carrier's "future sustainability", TAP will serve some 66 routes in August, rising to 76 in September.
Across both months, the airline will fly to destinations in Brazil, North America, Africa and the Middle East, alongside its European and domestic network.
The increase in services between August and September covers all of those markets, the airline says.
European services, for example, will rise from 329 flights and 30 cities in August, to 498 flights and 35 cities in September.
Weekly flights to Brazil will rise from 18 in August to 22 in September, while North American services will rise from 20 weekly flights and six destinations in August, to 30 flights and eight destinations in September.
"The list of routes and flights may be adjusted whenever circumstances require, in view of the dynamics of the evolution of taxes and restrictions in the various countries, due to the evolution of the pandemic, as well as the evolution of demand," the airline notes.
On 3 July, Portugal's government said it had agreed to pay €55 million ($62 million) to increase its stake in TAP to 72.5%.
The government previously held a 50% stake in TAP after partially privatising it in 2015.
On 30 June, TAP disclosed plans to further reduce its fleet after first-quarter net losses almost quadrupled to €395 million.