Boeing has revised downward its 20-year commercial aviation outlook – but only by a hair, predicting new-aircraft demand will accelerate in the coming years as airlines replace old jets with new.
The company predicts airlines globally will need 43,110 new commercial jets through 2039, down 2% from the 44,040 deliveries the Chicago company forecast in its 2019 forecast.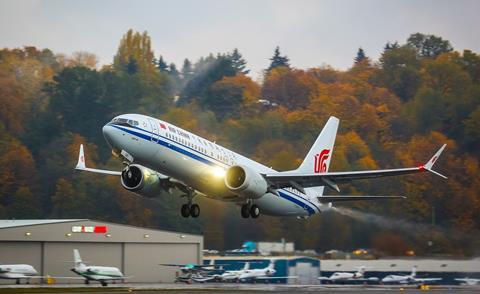 The Boeing Market Outlook, released on 6 October, forecasts airlines will take 18,350 new aircraft in the next ten years, 43% of the 43,110 total predicted deliveries in the period. Boeing estimates the total market's value will be $8.5 trillion over 10 years, down from its 2019 estimate of $8.7 trillion.
"The impact of the virus… shifts [demand] toward replacement" aircraft, says Boeing vice-president of commercial marketing Darren Hulst. "In the medium term we see the demand fundamentals that drive traffic… continuing."
Boeing's outlook highlights the airframer's continued expectation that airlines will disproportionately seek to acquire new single-aisle aircraft. It anticipates demand for 32,270 of those jets by 2039, 75% of the total. The balance includes 2,430 new regional jets (6%), 7,480 widebodies (17%) and 930 air freighters (2%).
Boeing's latest 20-year single-aisle delivery projection is 150 aircraft fewer than the company's 2019 outlook predicted. The freighter figure is 110 aircraft fewer, and the regional jet estimate is 190 more, than last year's projections.
The manufacturer's 20-year widebody delivery forecast took the greatest hit, slipping 10% from the 2019 outlook.
Hulst says the reduced widebody number reflects the pandemic's particularly significant impact on long-haul international travel.
Accounting for retirements, Boeing's predicted 43,110 deliveries would bring the global commercial jet fleet to an estimated 48,400 aircraft by 2039. That is down about 4.5% from Boeing's 2019 outlook, which pegged the global airline fleet at 50,660 aircraft at the end of 2038.
Hulst notes that earlier this year, due to the pandemic, airlines had parked about 60% of the world commercial aircraft fleet. During summer, carriers brought about 500 aircraft weekly back into service.
As of September, 71% of the world fleet was flying, including 73% of all single-aisle jets, 59% of widebodies and all freighters. But levels vary significantly by region, and both daily flight cycles and passenger loads are down more than 25% from previous levels.
But Boeing sees promise in past trends.
Hulst notes the industry recovered from previous industry downturns, and that following recent downturns carriers accelerated the pace at which they replaced old aircraft, bumping up new-jet demand.
Historically, airlines replace 2-3% of their aircraft annually. But after the dual shock of the 2001 terrorist attacks and 2002-2003 SARS pandemic, and again after the 2008-2009 financial crisis, carriers replaced 4-5% of their fleets annually for five years, he says.
"Our view is that we will see something very similar… Maybe even more pronounced in the near-term because of the impact on the industry," Hulst says.
Boeing therefore predicts 56% of aircraft delivered over the next 10 years will replace retiring aircraft, while 48% over 20 years will be replacements, with airlines using the balance to expand. By comparison, Boeing's 2019 outlook estimated 44% of deliveries over 20 years would be replacements.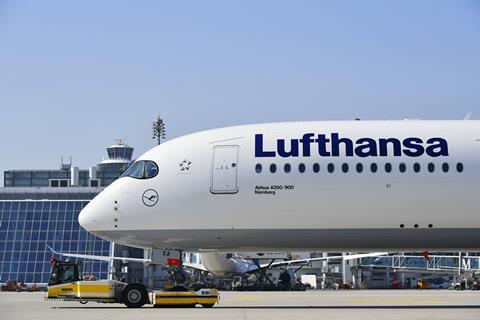 In hard numbers, Boeing's 2020 outlook estimates airlines will use 20,590 new aircraft delivered over 20 years to replace existing jets, and use 22,500 to expand.
Hulst says the Asia-Pacific and China markets will expand fastest, with carriers there acquiring 41% of all new aircraft delivered through 2039. Today, Asia-Pacific and Chinese airlines operate about one-third of the global fleet.
North American buyers will take 21% of deliveries over 20 years, 20% will go to Europe, 7% to the Middle East and 6% to Latin America. Russian and Central Asian buyers will acquire 3% of commercial jets delivered over 20 years, and African carriers will receive just 2%, Boeing predicts.
The industry will see a "constant and slow shift of overall fleet growth to Asia", Hulst says, citing expected economic growth in developing regions.
Boeing predicts the Covid-19 pandemic will particularly impact the aircraft services market in the near terms, pegging the value of that industry at $3.3 billion over ten years, about one-third of a market Boeing estimates to be worth $9 billion over 20 years.
The company's 2019 outlook pegged the aircraft services business as worth $9.1 billion over 20 years.
"The services market is a little more impacted than the passenger market in the near term, Hulst says.