The Covid-19 pandemic has certainly stricken the passenger airline industry.
But the air cargo segment has been a rare beneficiary, with e-commerce sales and scarcity of widebody passenger jets driving up cargo yields and demand for cargo jets, according to Boeing's 20-year cargo outlook.
Boeing had already, in early October, released cargo-jet demand projections as part of a broader 20-year commercial aviation outlook.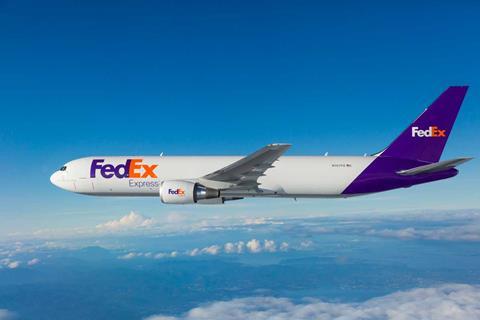 But Boeing's just-released cargo-specific outlook provides more insight into factors driving demand, such as the pandemic.
Overall, air cargo capacity is down 25% since January. But strong demand has pushed up cargo revenue 16%, with yields jumping 42%, Boeing says.
During the next 20 years, the Chicago airframer anticipates airlines will need 2,430 additional cargo aircraft, among them 930 new widebodies and some 1,500 jets converted from passenger to cargo aircraft.
Boeing anticipates strong demand in the coming years for 777Fs and 767Fs. And though the 767F is an ageing design – Boeing delivered the first of the type in 1982 – it could remain in production for the foreseeable future, says Boeing vice-president of commercial marketing Darren Hulst.
"I think that continues through this decade," he says of the 767.
Boeing holds outstanding orders for 80 767s, including 49 cargo variants, most for UPS and FedEx. The remainder are military variants, according to Boeing's website.
Boeing also produces 747-8Fs (but expects to stop manufacturing that jet in 2022), and speculation abounds about whether Boeing will develop a freighter variant of its 777X.
The forecasted 2,430 new and converted freighters would bring the global air freighter to 3,260 aircraft by 2039, up from 2,010 today, Boeing predicts.
The Covid-19 pandemic has been a primary short-term driver of freighter demand, as has e-commerce, says Hulst.
"We've seen a growth in the number of aircraft operated as freighters. Aircraft have been taken out of storage, reactivated to fly because of demand for air cargo," he says. "Airlines, freighter operators [and] wet-lease operators have been using their fleets about 20% more than normal."
The need for more freighters stems from the sharp decline in the number of widebody passenger aircraft plying the globe's skies. Carriers took many widebody jets out of service amid the pandemic, resulting in a roughly 60% year-on-year decline in available cargo space in the bellies of those jets.
All-cargo jets have picked up some of the slack; capacity in those aircraft is up 13% year-on-year, Boeing says.