A pandemic-caused surge in conversions of younger passenger jets to freighters is among reasons why Boeing cut its 20-year cargo-jet forecast.
Less-optimistic economic projections and new freighter utilisation data are other factors that led Boeing to trim its air cargo outlook.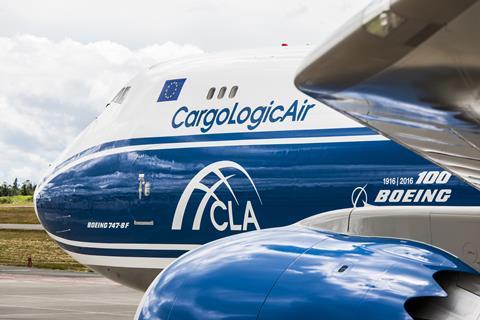 On 17 November, the Chicago airframer released its latest World Air Cargo Forecast. That document projects that 2,430 new air freighters will enter service by 2039.
Those include 930 new widebody cargo aircraft and another 1,500 aircraft converted from passenger to cargo jets.
The latest 2,430 figure is 390 fewer aircraft that Boeing, in its 2019 Commercial Market Outlook, predicted would enter the market over 20 years.
Specifically, Boeing anticipates airlines will need 110 fewer new cargo jets, and 280 fewer converted jets, than it previously anticipated, reports show.
"Our latest forecast reflects younger passenger conversions due to severe passenger-market Covid disruptions," Boeing tells FlightGlobal.
The pandemic has led airlines to retire hundreds of passenger aircraft earlier than previously planned, reducing availability of cargo space in the bellies of passenger aircraft. Cargo capacity is down 25% this year, according to Boeing.
But additional retirements of passenger jets mean more aircraft are available for a second life as converted freighters.
"These younger freighters are able to work harder [and] more efficiently, thereby lowering the long-term world freighter fleet requirement," Boeing says.
Boeing also says its "lower [cargo] traffic growth assumptions are due to reduced economic, trade and industrial production outlooks".
"Additionally, in the past few years, we've acquired new data sources of freighter utilisation that have allowed us to better understand how operators deploy and use freighters," Boeing says. "Consequently, we've increased the efficiency/utilisation assumptions in our freighter fleet growth models."
Boeing notes that despite new figures, the air cargo market has benefited from "strident" growth in express and e-commerce shipments.
The airframer still projects that the number of cargo aircraft in service will increase 60% over 20 years, to 3,260 aircraft by 2039.
Previously, it had predicted that 3,400 freighters would be flying by 2038.
Story updated on 25 November to include new comments from Boeing about converted freighters.