Evidence suggests that student pilots continue streaming into US flight schools despite the Covid-19 pandemic having left the world's airline industry scrambling to survive.
Several flight schools are reporting that as many or more students are enrolling in flight education now as were before the pandemic, and professional group Aircraft Owners and Pilots Association (AOPA) has heard similar reports from the flight schools it works with.
Whether such reports reflect a nationwide trend remains unclear, as hard data is difficult to obtain. AOPA did not provide enrolment figures, and the Federal Aviation Administration does not track such data.
But insiders say training demand remains strong partly because students still expect the world's airlines will resume hiring after recovering from the pandemic-induced downturn. Also, some students may now be pursuing their dream to fly after having lost jobs, due to the pandemic, in other sectors.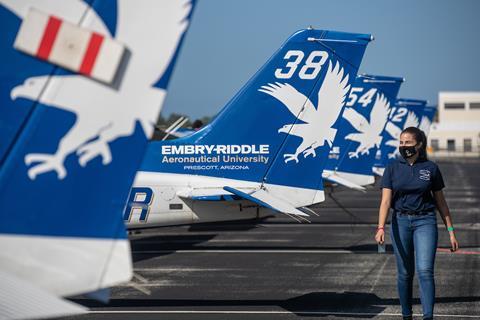 "We are all very, very surprised as to the amount of people that are coming," says Owain Gibbes, chief instructor at Melbourne, Florida-based flight school F.I.T. Aviation, part of Florida Institute of Technology. The school's fall 2020 and spring 2021 classes were "two of the biggest… we've had".
Training demand comes at an unusual time considering many of the world's airlines have, in the last year, grounded thousands of jets and slashed their workforces. Some carriers have ceased operations entirely and many remain dependent on government aid. Many pilots are out of work.
Some US flight schools shut their doors for a few weeks or months in early 2020 as the pandemic spread, then reopened before mid-year.
About that time, flight schools started reporting that they were remarkably busy, says Chris Moser, AOPA's senior director of flight training education.
"I was hearing from pretty much all of them… that they were busier than they were before the pandemic," Moser says. "They still say they are very busy."
Moser heard that some new students were jumping into aviation after losing work in other industries. "They were pursuing something they always wanted to do… Now they had time to do it."
Gibbes was unsure how busy F.I.T., which has about 30 aircraft in its pilot-training fleet, would be last fall. At that time US airlines were starting to lay off pilots, and regional carriers had stopped training, he says.
But F.I.T. ended up with 95 new students in its fall class. "It was one of the biggest classes we have had in three fall semesters," Gibbes says.
The school expects its spring semester, which tends to be slower than fall, will have 75 students – also more than in previous years, Gibbes says.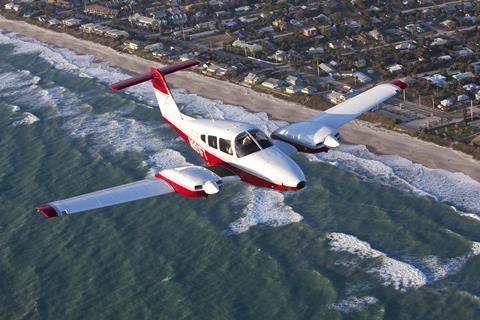 Embry-Riddle Aeronautical University's pilot-education operation in Daytona is currently at capacity, with about 1,200 students, the same as last year, says assistant dean and chairman of flight training Kenneth Byrnes. "Our incoming class last fall was full, and the numbers continue to look strong."
Embry-Riddle's flight programme has 73 aircraft at its Daytona campus, and additional aircraft at a second campus in Prescott, Arizona. Total enrolment across Embry-Riddle's various study programmes – which include programmes in aeronautical meteorology, engineering, physiology, maintenance and business, for instance – also remain strong, at more than 10,000, Byrnes adds.
Embry-Riddle's enrolments historically dip slightly about a year after industry downturns, such as those spurred by recessions and the 2001 terrorist attacks in the USA, Byrnes says.
Not this time.
"We are not really seeing that yet," Byrnes says. "The demand remains strong."
Sources says many students expects airlines will resume hiring in the coming years, after recovering from the pandemic. When that might happen remains unknown, though some aerospace executives have suggested their businesses may not return to 2019 levels until 2024 or later.
By then, today's new pilots can have attained the experience and certifications needed to fly commercial jets.
"It's going to take at least two years to get up to commercial [certification] and [to] be ready for an airline anyway. They took the gamble," says Gibbes.
Several industry-written forecasts predict the sector will eventually return to the rapid expansion that characterised the sector before the pandemic.
Boeing's 2020 market outlook predicts the world's airlines will need 43,110 new commercial jets in the next 20 years. That figure is down just 2% from Boeing's 2019 outlook.
The US manufacturer anticipates 605,000 new pilots will be needed within 20 years.
Likewise, a 2020 report from pilot training company CAE estimated airlines will need 264,000 new pilots in the next decade.
"When you look at the data… the next ten years or so are bright for this industry," says Byrnes.