Airbus is to cut production of its A330 line to 40 aircraft this year, and will keep A350 monthly output to between nine and 10 aircraft.
The decision is a consequence of "overall customer demand" in the twin-aisle sector, says the airframer.
Chief executive Guillaume Faury, speaking in Toulouse on 13 February, said the airframer "wanted to have a level of production reflecting demand moving forward" and that the decision reflected Airbus's understanding of the "capacity of the market".
Softer long-haul demand has been reflected in rival Boeing's plans to cut 787 monthly production from 14 aircraft to 10 in 2021. The US airframer attributed this to Chinese trade tension and lower near-term replacement demand.
Airbus delivered 53 A330s last year, including 41 of the re-engined A330neo. But Faury says a "lot" of the A330 deliveries last year involved aircraft originally produced in 2018, for which delivery was then delayed.
He says he is "confident" that the airframer is planning fro the "right level" of deliveries.
Airbus also handed over 112 A350s – comprising 87 A350-900s and 25 A350-1000s – having achieved its target production rate of 10 aircraft per month.
It increased overall A350 orders to 926 during 2019, up by 32, but the backlog for the twinjet family fell by 80 aircraft – to 579 – over the year.
The backlog for the A330 programme, in contrast, increased by 36 aircraft to 331 by the end of 2019, of which 293 are A330neos.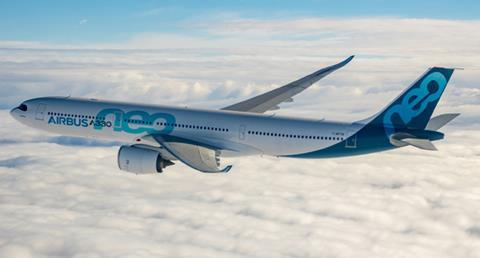 All of the A330neo deliveries to date have involved the larger -900 variant. Certification of the -800 has yet to be completed.
But Airbus chief executive Guillaume Faury says the airframer expects developments on the type certificate for the A330-800 "very soon".