Boeing's decision to reduce 787 production to 10 units per month from early 2021 has been driven largely by lower orders from China as well as a reduced near-term requirement for widebody replacements.
Announcing the move on 29 January, Boeing said output would remain at that level until 2023 when it would be increased back up to 12 per month. The company previously indicated that it would cut Dreamliner production this year from a rate of 14 per month, to 12.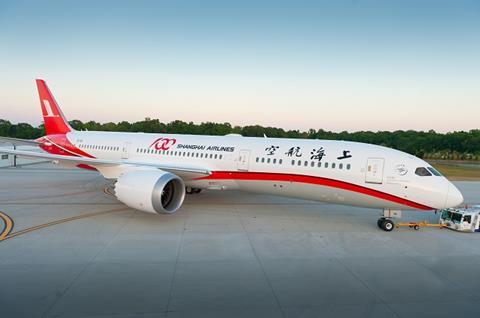 Speaking at a London media briefing on 31 January, Wendy Sowers, director, market forecast marketing at Boeing Commercial Airplanes, said that a trade dispute between China and the USA "was a big contributing factor" to the decision.
China represents around 20% of deliveries, says Sowers, therefore lower than forecast orders from the country's airlines "makes things challenging".
Boeing chief financial officer Greg Smith, speaking on the airframer's full-year earnings call on 29 January, described China as a "big deal" for the company.
Recently China and the USA agreed a new trade deal which will see Beijing buy $77.7 billion of US-produced goods over the next two years. Commercial aircraft are likely to account for a large proportion of that total.
Smith says that Boeing is already "engaged" with Chinese customers over future orders, although it has no "clarity" over which models will be acquired.
But in addition to the trade tensions with China, subdued replacement demand – correlating with a slump in deliveries two decades ago – has also caused orders to flatten off.
"There are not as many aircraft that need to be replaced right now," says Sowers.
But, Smith touts the 787's "great economics" as making it "extremely well-suited" to address the widebody replacement market over the next 20 years.
He says that demand for the -10 variant is "underserved" at present, but expects sales to pick up.
"I think as we see that replacement market, I'll say coming more within our skyline, I think we're going to continue to see more demand for the -10.
"It's just an incredible value proposition and machine for our customers, especially considering what is going to be replacing in the market," he says.
Boeing took in 82 net orders for the 787 last year, while delivering 158 units.