Singapore Airlines has confirmed its order for seven Airbus A350 freighters, which will replace its fleet of Boeing 747-400 cargo jets.
The deal, signed on the second day of the Singapore Airshow, will see the carrier take delivery of its first A350F in the fourth quarter of 2025. SIA, which also holds five options for the freighter, will be the world's first carrier to operate the type.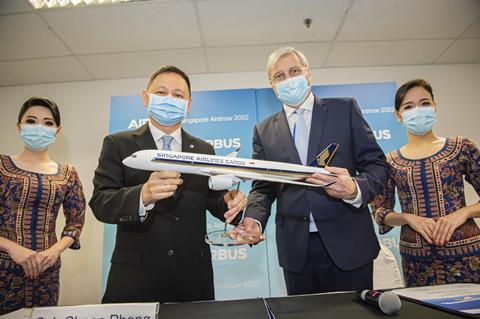 The carrier first announced its commitment to what it calls a "new generation" widebody freighter in December 2021, swapping orders for two A350-900 passenger aircraft, as well as 15 A320neos meant for low-cost unit Scoot as part of the agreement.
Speaking at the order announcement, SIA chief Goh Choon Phong says the carrier has "always been looking at the renewal" of its aging 747 freighters, but that "there wasn't really an available…alternative [and effective] plane" in the market.
SIA, currently the world's largest A350 operator, had also been in "early engagements" with Airbus over the development of the A350F, Goh discloses.
"We continue to want to work with Airbus in defining some of the commercial requirements, as we work towards the entry-into-service of the plane in 2025," he adds.
Cargo has been key in boosting SIA revenue when passenger travel demand collapsed during the pandemic. In the six months to 30 September, SIA Group's cargo revenue increased 51% year on year to a record S$1.9 billion ($1.4 billion).
The order — the latest confirmation announced by Airbus during the show — underscores the European airframer's bullish sentiments over the freighter's prospects.
Airbus secured its first agreement for the A350 freighter – which will have a payload capability of 109t – during the Dubai air show in November 2021, when lessor Air Lease agreed to take seven examples.
At a separate briefing before the SIA order was disclosed, Airbus doubled down on what it sees as the freighter's advantages over Boeing's 777F, as well as the recently-announced 777-8F.
Sean Shparberg, Airbus commercial's marketing head, told reporters that the A350F offers airline customers $110 million in present value savings over a 16-year period — alongside better fuel savings and better range — compared to the 777F.