Airbus Defence & Space sees opportunities for the A400M tactical transport and other platforms in the Asia-Pacific region, as air forces look to replace legacy platforms and improve capabilities.
Michael Schoellhorn, chief executive of Airbus's defence unit, notes that A400Ms and A330 multi-role tanker transports (MRRTs) conducted 120 sorties in support of the August 2021 Kabul airlift, supporting the rescue of some 12,000 people.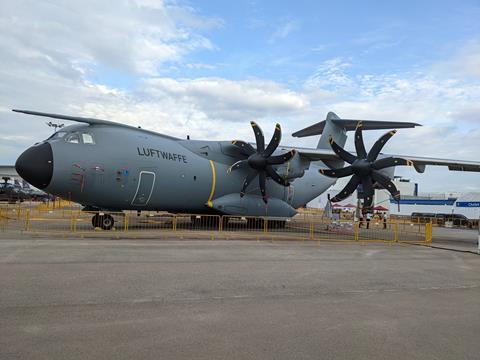 Three months later, in November 2021, Jakarta finally placed a long-awaited A400M order, ordering two examples and taking options for four.
"Is Kabul the thing that moved the needle in terms of the order we were given by Indonesia thereafter?" asks Schoellhorn. "Maybe not, but it certainly helped… the A400M is becoming the aircraft that everyone wanted all along."
Schoellhorn was speaking at a media roundtable conducted during the recent Singapore Airshow.
As for the A400M's potential in the region, he notes the vast distances involved in Asia-Pacific transport, in addition to the age of legacy tactical transports, specifically older Lockheed Martin C-130s. These factors support A400M demand.
While Schoellhorn says Airbus has discussed the A400M in the region, he declines to offer specifics.
He feels that the A400M and smaller C295 can complement each other in an air force's fleet, with the C295 taking on missions that do not require the heft of Airbus's flagship transport.
Last year, an even more important development for Airbus than Indonesia's A400M commitment was India's confirmation of an order for 56 C295s. Of these, 16 will be built in Spain, and 40 locally in partnership with Tata Advanced Systems.
"We're in the early phases of the programme, and I think it's going to be a real game changer not only for us but also for the Indian aerospace industry," he says.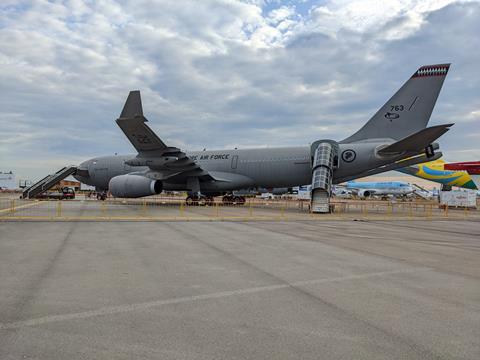 Longer term, there could be potential to export C295s from India, but Schoellhorn stresses that such an eventuality is probably far in the future.
"But when we build up the supply chain in India and the capability, I'm sure we're going to have ideas and create ideas of what that could be put to use for – either for India or for additional demand from other countries," he says.
Airbus also sees interest in the region for using the C295 for maritime patrol and maritime surveillance missions, particularly from countries that already use the type in the transport role.
As for the MRTT, Schoellhorn notes the type's sales success in the region, and that it is in service with Australia, Singapore and South Korea. He says that discussions have been held with Indonesia. He feels that Jakarta's recent decision to order 42 Dassault Rafales would tend to support an eventual MRTT acquisition.
Airbus has observed that countries increasingly want to use tankers as a connectivity node in their airborne networks. In addition, it aims to certificate the MRTT's A3R (automatic refueling system) later this year.
A major theme of the Singapore show – at least on the commercial side – was sustainability, with a focus on sustainable aviation fuel (SAF) and other technologies to reduce emissions.
To this end, Schoellhorn notes that work is underway to explore the use of SAF with aircraft from Airbus's military portfolio.
"[The Asia-Pacific] is a region that is extremely close to our heart because of its technology and innovation orientation," he adds.
"If you look at the growth of defence budgets by region, it is also the fast growing area. We see a lot of prospects and momentum."