Air Canada slashed its quarterly loss as travel demand soared, and the company experienced "one of the steepest ramp-ups compared to any other airline in the western world".
The Montreal-based carrier said on 2 August that its loss for the three-month period that ended on 30 June was C$386 million ($300 million), down from C$1.17 billion in the same quarter a year ago.
The legacy airline's revenue jumped five-fold to C$3.98 billion during the second quarter of 2022, from C$837 million in the same three months in 2021.
While the boost is welcome, the quick rebound in demand and traffic has created massive system-wide operational issues. Under-staffing across the airline has caused thousands of flight delays and tonnes of lost luggage, among other problems.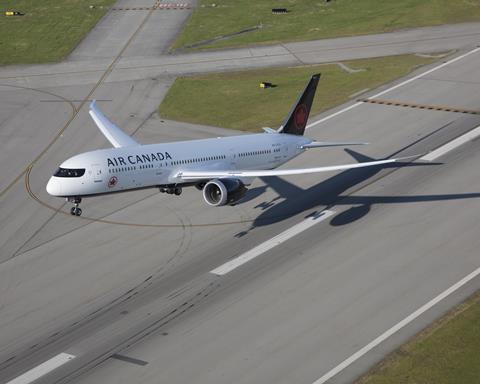 "The industry worldwide is facing unprecedented conditions as it emerges from pandemic-related restrictions," says chief executive Michael Rousseau on the company's quarterly earnings call. "The situation is particularly challenging in Canada, where we have gone from a near two-year shutdown of air travel to rebuilding our capacity back to close to 80% of 2019 levels in just a few months."
Air Canada says it transported more than 9.1 million customers in the quarter that ended on 30 June. That's almost 8 million more than during the second quarter of 2021 or about 70% of total customers carried in the full year of 2021, he adds.
"Despite meticulous planning and projecting, participants involved in the air transport system are facing significant pressure in restarting," he adds.
In response to what it calls "the unprecedented challenges faced by the air transportation system" Air Canada cancelled about 8% of its schedule – or 154 mainly domestic and US trans-border flights - during the traditionally busy summer travel months of July and August.
In the past months, the government of Canada relaxed most of its pandemic-prompted restrictions, including ditching its requirement for a pre-departure negative Covid-19 test for inbound international travellers, and not requiring proof of vaccination for boarding an aircraft in Canada. That led to a massive increase in interest for air travel, executives say.
Chief financial officer Lucie Guillemette said that increase amounted to "one of the steepest ramp-ups compared to any other airline in the western world".
FLEET ADDITIONS
The company also says on its quarterly results conference that it's adding two new Boeing 777 freighter aircraft to its fleet. That's in addition to its current two 767-300 freighters. These two new aircraft are expected to join the fleet in 2024.
"We see strong demand in the market [and] that we really need the additional capacity," says chief financial officer Amos Kazzaz. "We can use the efficiencies we have from our current 777 fleet [and] the new 777 can help us round out the network and range capability."
According to Cirium fleets data, Air Canada currently operates 18 777 aircraft in its passenger network.
For the rest of the year, the company anticipates continued growth, with "solid" demand, that shows no signs of slowing down. The Canadian airline plans to once again expand capacity as measured in available seat miles (ASMs) for the third quarter and beyond. During the three months between July and September, the company plans to offer 131% of last year's capacity, or 79% of 2019 levels.
For the full year, ASMs will settle in at 74% of 2019 AMS levels, or 150% higher than in 2021.
Despite a projected recession, Air Canada says it's prepared for anything the future will bring.
"We see no evidence of a slowdown. We are ready for any scenario that exists to take advantage of," Rousseau says.