Richard Clark has been appointed as director general of Air Europa amid what local media has characterised as "great turbulence" around leadership of the Spanish carrier.
Clark replaces Maria Jose Hidalgo, according to a 30 July statement, who continues to serve as co-chief executive at Air Europa parent Globalia.
Tensions at the top of Air Europa have their origins in a €475 million ($565 million) bailout the carrier is receiving from the Spanish government through state-owned industrial holding company Sociedad Estatal de Participaciones Industriales (SEPI).
According to media reports, the Hidalgo family – which owns Globalia – has been unhappy with several developments at Air Europa since SEPI became involved.
Crucially, as part of the bailout, SEPI was able to nominate a new chief executive of Air Europa and two board members.
Consequently, former Iberia and Vueling executive Valentin Lago was appointed as Air Europa chief executive earlier this year and continues in that role today – alongside the director general function now taken by Clark.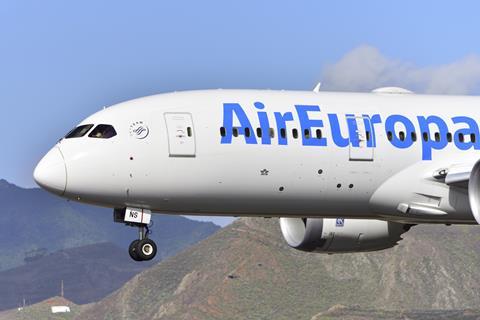 Clark's appointment comes days after Andres Bello stepped down as Air Europa's long-time director of flight operations, with Lago naming Jose Guardiola naming as his replacement.
The latter development came as Lago attempts to implement salary reductions among the carrier's workforce.
Clark has been with Air Europa since 1987, becoming deputy director general in 2016.
IAG is intending to acquire Air Europa for €500 million, with Globalia saying on 30 July that the "procedure for the authorisation by the European Commission of the sale of the company" is at a "very advanced stage".