Alaska Air Group lost $316 million in the fourth quarter of 2020, and is preparing for a mixed bag in the current year as the coronavirus crisis drags on.
The latest three-month figure is the fourth straight quarter of losses for the Seattle based carrier group, and brings the year's losses to $1.3 billion, compared to a profit of $798 million in 2019.
Alaska's revenue in the final quarter of the year was $808 million, down 64% from $2.2 billion in the same period in 2019. Revenue for the full year was 59% lower, at $3.6 billion.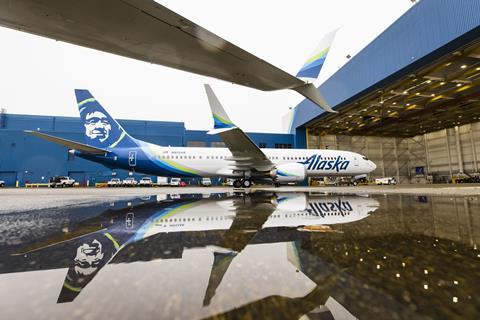 For 2021, executives say, the airline is expecting a mixed bag.
"We are not out of the woods, but we are seeing signs of brighter days ahead," says outgoing chief executive Brad Tilden on 26 January. "We're positioned to come out of this crisis with our balance sheet unimpaired and our competitive advantages intact, and both of these set us up for a strong future and a long runway for growth."
Tilden, who has been chief executive since 2012, is set to retire at the end of March. He will be replaced by president and company veteran Ben Minicucci, a personnel change that was announced in December.
Average daily cash burn at the company, which owns Alaska Airlines and Horizon Air, was about $3.8 million – down from $4 million daily in the third quarter.
While bookings dipped in the later part of the fourth quarter due to rising coronavirus case counts across the country, they have again improved, and Minicucci says the airline expects to return to 80% of normal capacity by the northern hemisphere's summer.
Once coronavirus vaccines reach more potential customers and travel restrictions are lifted, "there will be a step-change in demand", he adds, echoing comments made by other airline executives.
"We see strong demand booking through spring and summer, Covid cases have been down past three weeks, and we have seen a steady increase on our net bookings year-over-year," says chief commercial officer Andrew Harrison. "We are on an improved trajectory and certainly headed in a good direction. There is optimism about the future."
While the leisure market shows "substantial" numbers of customers are ready to travel again after months of shelter-in-place requirements, business-travel demand will remain weak, Minicucci says. It is currently at about 15% of normal levels and the airline does not expect it to exceed 50% by the end of the year.
"Number one, we need to get the vaccine out, and on that we still have a ways to go," Harrison adds. "Corporate America has to open up, that's yet to happen."
And once it does open up, he adds, budgets will likely be constrained for quite some time.
"The focus is keeping the company ready for when demand does jump," Minicucci says.
737 MAX DELIVERIES
On 24 January, the airline took delivery of its first Boeing 737 Max jet as it begins to streamline its fleet in an effort to improve efficiency and profitability.
Alaska's first revenue flight with the new aircraft, which carries tail number N913AK, will be on 1 March. It will run daily round-trips between Seattle and San Diego, as well as on the Seattle-Los Angeles route.
The carrier aims to receive 68 Max aircraft in the next four years, with an option for 52 more, should there be opportunity for more growth, chief financial officer Shane Tackett says. The 68 on-order Max include 13 jets that Alaska recently discllosed it will take from lessor Air Lease.
In 2021, Alaska will take on 13 of the new type, next year another 30 will join the fleet, with 13 more in 2023 and finally 12 more in 2024, the airline says.
All of the 68 Max aircraft will fly with sustainable aviation fuel.
"The order we jointly announced with Boeing provides a clear path to higher gauge and more-efficient aircraft," he adds.
The airline acquired numerous Airbus aircraft (and an Airbus order) when it took over Virgin America in 2016. Alaska has said it intends to phase out its Airbus aircraft by mid-2023. According to Cirium fleets data, Alaska currently has 51 A320s, 10 A319s and 10 A321neos in its fleet, in addition to 166 Boeing 737NGs.
Alaska had operated only 737s before acquiring Virgin America.