Alaska Airlines officially became the fourtheen member of the Oneworld aviation alliance on 31 March.
The Seattle-based airline says its customers can now enjoy the full benefits of the global alliance, letting them seamlessly travel to 1,000 destinations in 170 countries.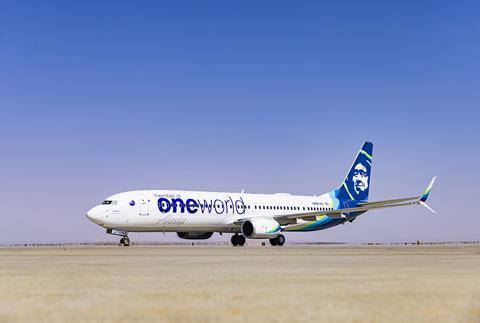 "It's the best time to join an alliance", says Alaska chief executive Ben Minicucci, calling the milestone a "pivotal moment" in the airline's history.
Oneworld chief executive Rob Gurney adds that as the industry rebuilds from the coronavirus crisis, alliances will become more valuable.
"All of our member-airline CEOs have reaffirmed that partnerships are going to be even more crucial as we come out of Covid," he says. "Most airlines going to be operating smaller fleets, so the ability to offer a global network is going to be dependent on partners like never before."
Oneworld is the smallest of the three global airline pacts – Star Alliance and SkyTeam being the other two – and is headlined by American Airlines in the USA, British Airways and Iberia in Europe and Japan Air Lines and Qantas in the Asia-Pacific region.
In light of closer collaboration with 13 other Oneworld carriers, Alaska says it has no intention of acquiring widebody jets to operate long-haul international flights.
"We are very comfortable where we are in terms of our domestic" service, Minicucci says.
Alaska has "no plans for widebodies", he adds, saying the airline's top goal is recovering from the pandemic-driven downturn.
With the new alliance, Seattle-based customers will have direct non-stop access to seven international cities. Those include Doha, Qatar with Qatar Airways, and London, Shanghai and Bangalore with American Airlines, Minicucci says.