Alaska Airlines is aiming to become the most fuel-efficient US airline in the next five years, the airline's chief executive says.
During a 30 June webinar sponsored by The Washington Post, Ben Minicucci outlined the Seattle-based carrier's ambitious sustainability efforts, in order to reach its goal of achieving net zero emissions by 2040.
Minicucci says the airline's five-point strategy includes a massive fleet renewal, increasing operational efficiencies, increasing the production and use of sustainable aviation fuels (SAF), supporting innovation in aviation technology as well as carbon offsets.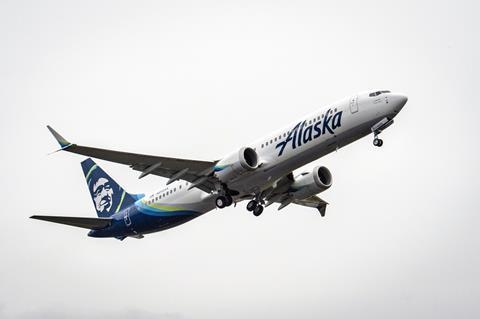 "In the next five years we want to be the most fuel-efficient airline in the country," Minicucci says.
He calls sustainable fuels – which are often made from renewable sources such as forest floor debris, old clothes, cooking oil or municipal garbage – the "biggest driver" to reaching the airline's 2040 goal. But the current high cost and limited supply of these biofuels continues to be a problem for air carriers.
"When you talk about sustainable fuels its tough because the cost of sustainable fuels [is] about two to three times the cost of jet fuel," Minicucci says.
While the airline is making its own investments, he also applauds efforts by the US government to make the alternative fuel more affordable.
In May, US lawmakers proposed a bill to subsidise the production of SAF. The "Sustainable Skies Act", backed by Democrats and introduced to the House of Representatives, is part of a broader effort by the administration of President Joe Biden to address climate change.
If passed, the bill would offer a tax credit of up to $2 per gallon (3.79l) to biofuels producers.
He says bringing the cost down to a level that would not hurt the carrier's profitability will take more than a few years. "[In] 10 to 15 to 20 years the cost of sustainable fuels could be at par with jet fuel," he says. "That's when it's going to make sense."
"Educating people in positions of influence is going to be a key enabler in getting the cost of sustainable fuels down," he says.
As part of its efforts to reduce its greenhouse gas emissions, the carrier has also ordered 120 new Boeing 737 Max jets in order to replace its ageing Airbus 320 fleet. Minicucci says that these new aircraft will cut the airline's per-seat mile emissions by up to 25%.
Supporting research into alternate aircraft propulsion systems such as hybrid-electric power is also one of the company's priorities as a part of this strategy. While great strides are being made in developing small electric take-off and landing (eVTOL) vehicles with a few seats, Minicucci warns that it will take some time until the technology is viable for airlines.
"[It's] just not possible with the technology today because batteries are simply too heavy," he says.
Finally, Alaska is also incentivising its employees to help achieve the company's ambitious climate targets, Minicucci adds. About 10% of each of the company's 22,000 employees' year-end bonus will be based upon reaching its carbon output goal.