A week after Mexican ultra-low-cost carrier Viva Aerobus and Allegiant Air applied to the US Department of Transportation (DOT) for a transborder commercial alliance, the US discount carrier's chief executive Maurice Gallagher says Mexico is a "green field" that holds many possibilities for the airline.
Speaking publicly about the joint venture for the first time since its announcement on 1 December, Gallagher says Allegiant and Viva are "cut from the same cloth", and have similar ambitions for their own – and now each other's - budget-conscious customers.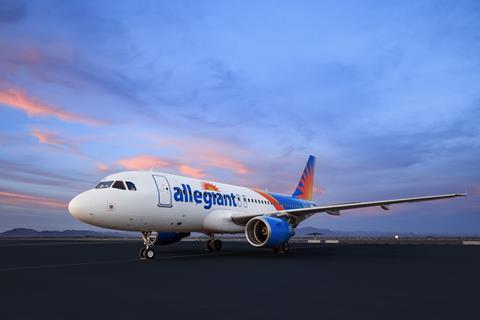 "If you want to go to Mexico now you are connecting through a hub," Gallagher says during a keynote address at the Future Travel Experience Global conference in Las Vegas on 8 December. But within the framework of the future alliance with Viva, Allegiant has a list of "40-some cities" from which it can now consider introducing what he calls "a leisure nonstop product".
"We have 1,000 more routes on top of our current 600 that are out there for us to harvest in the next couple of years," he adds.
In Las Vegas-based Allegiant, Viva would get a partner that can help it reach a wider client base north of the border.
"Trying to penetrate the traditional US customer has been difficult for them," Gallagher adds. "They just don't have the resources."
Similarly, Viva's overwhelming strength in traditionally popular holiday destinations like Cancun – where it is the biggest carrier - will in the future support Allegiant's objectives in transporting Americans to their beach vacations in Mexico.
"We could go in there alone and try and get slots, but going in there with a big brother [is] a lot more powerful," he adds.
According to Cirium fleets data, the two airlines also fly nearly identical aircraft with similar single-class configurations. Allegiant has a fleet of 109 Airbus A319 and A320 aircraft in service, while Viva Aerobus operates a 50-strong mix of A320s and A321s.
Last week, the two ultra-low cost airlines applied to the DOT for approval of a commercial alliance that would not only expand low-cost flying between the USA and Mexico, but also give Allegiant an equity stake in the Monterrey, Mexico-headquartered carrier.
Allegiant said that the potential tie-up is the first between two ULCCs, and not involving a network or legacy carrier. If approved, it would "bring significant new competition and service options to the US-Mexico market". Those options include lower fares and additional transborder capacity. The airlines plan to coordinate "across all areas of airline operations", which includes code-sharing, scheduling, marketing, IT systems and loyalty programmes.
As part of the deal, Allegiant, which currently does not serve Mexico, would also make a $50 million investment in Viva Aerobus, and the agreement calls for Gallagher to join Viva's board of directors.
The transaction requires approval in both jurisdictions, which Gallagher says can be expected in "about six months".
In the application, the airlines said they plan to begin sales and marketing at the end of July 2022, and are targeting the alliance to go into effect in the first quarter of 2023.