The US Department of Transportation (DOT) has suspended its review of a joint venture between ultra low-cost carrier (ULCC) Allegiant Air and Mexico's Viva Aerobus, putting a wrench in the carriers' already-delayed plans for expansion in each others' home markets.
"We are hereby suspending the procedural schedule… for our review of this matter," the DOT wrote in a filing published on 31 July.
"The department reviews applications for antitrust immunity to US carriers and their foreign partner carriers based on the complete implementation of a liberalised air transport agreement between the United States and the country of the partner carrier," DOT says. "Recent actions undertaken by the government of Mexico affecting US carrier operations at [Mexico City's] Benito Juarez International airport call into question the existence of this predicate."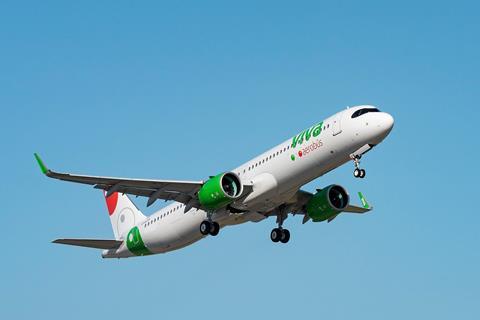 In an accompanying letter to Mexico's under-secretary of transportation in the ministry of infrastructure, communications and transport, the DOT writes, "Given these circumstances, we are not able to further consider the Viva/Allegiant case pending additional information demonstrating compliance with, and full implementation of, the terms of the US-Mexico air transportation agreement."
At the Mexico City airport, airlines have been subject to capacity restrictions, and Mexican authorities have in the past seemed intent on forcing passenger airlines to move operations from that airport to the new Felipe Angeles International airport, which also serves the Mexico City region.
Allegiant responds to the DOT's move by saying, "We hope the United States and Mexico can resolve their differences over the bilateral agreement quickly, so travellers from both countries can benefit from the Allegiant/Viva joint venture."
"Through that venture, the public will gain greater access to affordable airfares and more convenient travel options that will allow them to enjoy the incredible leisure and entertainment experiences that await them in both countries," Allegiant adds.
The two ULCCs first announced the transborder commercial collaboration in late 2021, and Mexico's Federal Economic Competition Commission (COFECE) approved it in October 2022. The airlines had originally targeted the alliance to go into effect in the first quarter of 2023.
The joint business aims to give customers access to each airlines' respective loyalty programmes, sales systems and route networks to operate flights together, Las Vegas-based Allegiant said at the time. That carrier would begin operations in Mexico for the first time, including service to popular Mexican beach destinations like Cancun and Puerto Vallarta, and Viva Aerobus would expand to US markets such as Las Vegas and Florida.
As part of the deal, Allegiant would also make a $50 million investment in Monterrey-headquartered Viva Aerobus, and receive a spot on Viva's board.
Earlier this year, the union representing Allegiant's pilots came out against the carrier's proposed joint venture, alleging that the carrier is simply seeking access to cheaper flight crew.