Canada Jetlines, a start-up leisure carrier based in Vancouver, is set to launch passenger revenue service next month.
The airline said on 22 July that its inaugural flight will depart Toronto's Pearson International airport, bound for the central Canadian city of Winnipeg, on 15 August.
"The entire team at Canada Jetlines is excited to offer passengers a convenient route from Toronto to the beautiful city of Winnipeg starting on our inaugural day of August 15th," says Jetlines chief executive Eddy Doyle. "We greatly look forward to our first flight to Winnipeg and intend to offer more travel options to the residents of Manitoba soon."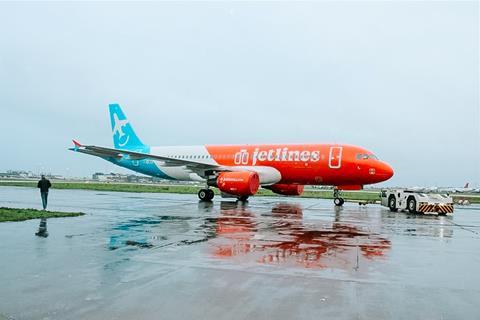 The company's website allows bookings on flights from Toronto, Winnipeg and Moncton, New Brunswick, from 15 August. Jetlines opened booking on 18 July. Its website also lists Niagara Falls as a destination but does not yet allow customers to book flights to there.
"We've worked incredibly hard to reach this milestone and begin welcoming travellers," says Duncan Bureau, Jetlines' chief commercial officer. "We aim to deliver a new leisure airline and travel experience, which will provide exceptional value and incredible service levels – something we believe Canadian travelers are in desperate need of."
The carrier's fleet consists of one used Airbus A320, formerly operated by Colombian flag carrier Avianca and Turkey's Pegasus. Jetlines has said it aims to acquire four more aircraft annually.
Jetlines has been many years in the making. The airline went through numerous top management changes since coming onto the scene in 2015.
It is the second of two start-up Canadian discount airlines. The other, Calgary-based Lynx Air, began revenue flights in April using new Boeing 737 Max 8s.
Lynx and Jetlines join WestJet subsidiary Swoop and Flair Airlines – both of which operate Boeing 737s – in the low-cost segment.
Jetlines has said it plans initially fly to destinations in Canada, but to expand to sun destinations like Florida, Cancun, Las Vegas and Cuba.