Compass Airlines, which flies regional routes for American Airlines as American Eagle out of its Los Angeles hub, will shut down completely on 7 April, the second US regional carrier to fall victim to the coronavirus, according to a letter employees say they received.
The airline, owned by Trans States Holdings, did not immediately respond to a request for comment.
On Tuesday, Trans States announced that another of its subsidiaries, Trans States Airlines, a regional carrier for United Airlines, would also shutter operations, on 1 April.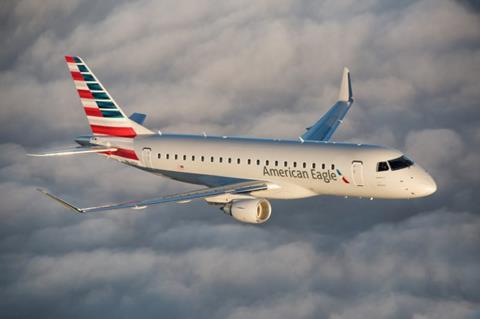 "Demand has diminished to a point that American has made the decision to remove a large majority of American Eagle flights in Los Angeles starting on April 7, which will effectively eliminate all our remaining flying with the start of the April 7 schedule," chief executive Rick Leach writes in a memo to Compass employees leaked on 19 March.
Compass operates 20 Embraer E175 aircraft for American.
"All our remaining capacity will be completely cut for an undetermined period and our other, once viable, prospective opportunities have been tabled for the foreseeable future due to the sweeping impact of this crisis," Leach writes. "We simply cannot keep an infrastructure in place without guarantees, nor clarity of additional flying to support it."
Indianapolis-based Compass had earlier planned to stop flying for Delta Air Lines as Delta Connection at the end of the first quarter of 2020.
As yet unaffected by the Compass and Trans States closures is the third subsidiary, GoJet Airlines, which flies Bombardier CRJ550s for United Airlines.
US airlines are seeking more than $50 billion in government aid to help them manage through the global health crisis that has gripped the air transport industry, with airlines slashing schedules following a sharp drop-off in pasenger demand and government-imposed travel restrictions.