UK low-cost carrier EasyJet is still expecting a return to pre-crisis capacity levels during the peak summer season this year after Omicron clipped its recovering load factor in December.
EasyJet's capacity was at 64% of pre-crisis levels in the October-December 2021 period, the first quarter of its new financial year. That is just shy of the 65% it projected for the quarter.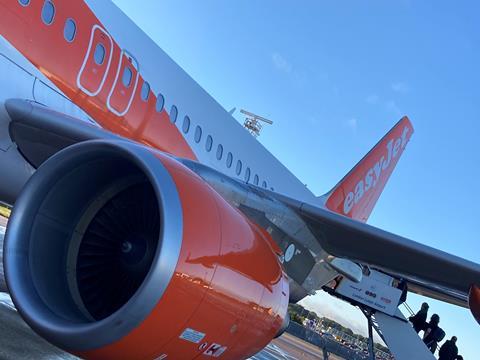 However, it notes travel restrictions related to Omicron meant that its load factor, which had topped 80% in both October and November, dropped to 67% in December. As a result, the figure for the quarter stood at 77%, rather than the 80% it had hoped for.
The airline carried 11.9 million passengers in the quarter – compared with 2.9 million in the same period in 2020.
Revenue for the three months jumped to £805 million ($1.1 billion), from £165 million in the same period in 2020, while headline loses were cut from £423 million to £213 milion.
EasyJet chief executive Johan Lundgren says: "EasyJet produced a significant year-on-year improvement in the first quarter, despite the short-term impact of Omicron in December, halving losses and cash burn compared with [the same period of 2021] alongside driving higher returns from ancillaries."
The airline expects Omicron to continue to have an impact on performance during its second quarter and January capacity will be about half pre-crisis levels.
But EasyJet will ramp up capacity during the year as it highlights a "sustained step-change improvement" in booking volumes since the UK earlier in January lifted the requirements for pre-departure testing which had been reimposed to counter Omicron.
It points to the positive effect of further easing of travel restrictions both in Europe and within the UK, which plans to scap the testing requirement for fully-vaccinated arrivals from 11 February.
Lundgren adds: "We see a strong summer ahead, with pent-up demand that will see EasyJet returning to near-2019 levels of capacity with UK beach and leisure routes performing particularly well."