Hong Kong Airlines (HKA) has cleared a first crucial step in its debt restructuring process in the UK, after it clinched approval from its creditors for its restructuring plan.
The beleaguered airline, linked to China's HNA Group, convened a creditors' meeting on 1 December, after getting the go ahead from the High Court of Justice of England and Wales.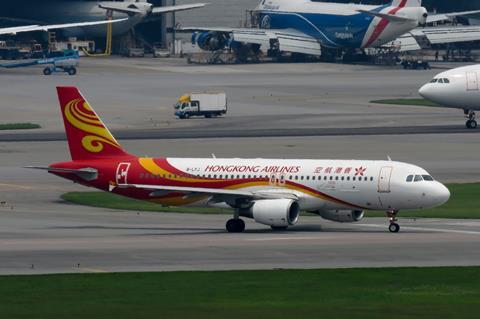 Close to 91% of unsecured creditors voted to approve the plan, while about 80% of perpetual notes creditors gave the green light. Of the 13 "critical lessors" also present at the meeting, all voted in favour of the plan.
The creditor go-ahead now paves the way for HKA to hold a sanction meeting, which will take place on 9 December.
On 27 September, HKA disclosed plans to file for debt restructuring in the Hong Kong and UK courts. The airline has debts amounting to over HK$49 billion ($6.3 billion), according to a practice statement.
The restructuring will see the airline cut its operational fleet from the current 53 jets to just 20 aircraft, as well as cut its debt and strengthen its balance sheet.
HKA suffered the double whammy of political unrest in Hong Kong in 2019, followed by the collapse in travel demand from the coronavirus pandemic.
In its practice statement letter, HKA says passenger numbers plunged from nearly 6.9 million in the period from February 2019 to January 2020, to around 217,000 in the corresponding period a year later, a drop of nearly 97%. The airline also has had to slash its workforce by over 65% during the two years of the pandemic.