Ultra-low-cost carrier Frontier Airlines says customer demand is "on a solid path to recovery" after first quarter earnings took a hit from Covid-19's Omicron variant coupled with air traffic snarls and weather issues in Florida.
The Denver-headquartered airline says revenue for the quarter came in at $605 million, 11 percent higher than the corresponding pre-pandemic quarter in 2019. It's expecting record revenue during the second quarter.
It reports a $91 million loss. That's down from $121 million in the first quarter of 2021.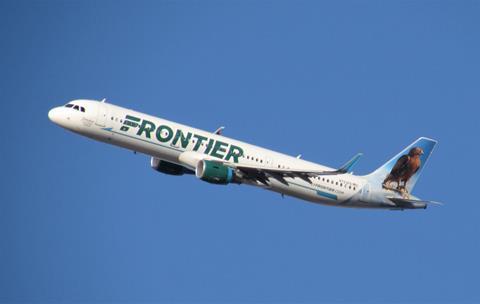 "Our anticipated record revenues plus our industry-leading fuel efficiency validate the ultra-low-cost model, even in a high-cost fuel environment, providing confidence in our return to profitability," says chief executive Barry Biffle.
The airline was able to offer capacity that was 20% higher than that of the same quarter in pre-pandemic 2019.
Frontier expects to increase capacity by 10% to 12% in the second quarter compared to the corresponding 2019 quarter, and 12% to 15% for the full year, thus underlining the airline's confidence it will return to long-term profitability.
FLORIDA WOES
Frontier says it will be pulling back some of its schedule in Florida, after inclement weather coupled with staffing shortages at Jacksonville Air Traffic Control Center in March severely impacted the airline's operations in the southeast USA.
Jacksonville controls airspace over the northern two-thirds of Florida and the company's key markets of Orlando and Tampa.
"The air traffic control is an unsustainable thing," Biffle says.
Two airlines have said the Federal Aviation Administration will be holding a meeting with all affected parties in May to attempt to find solutions to the disturbances.
"We are excited that the FAA is stepping in knee-deep on this and they will have a summit on this in the coming weeks," he adds. "We will be taking a very active and aggressive role in taking steps that we can to control our destiny and schedule around" the US regulator's ATC issues. Currently, about 50% of the airline's schedule touches Florida. Executives say that number will be lower in the coming months.
SPIRIT AIRLINES BID
Addressing the airline's bid for Florida-based competitior Spirit Airlines, Biffle says, "We continue to be excited about completing the merger and delivering the significant benefits that will come with it."
"Our regulatory process is already well underway and many months ahead of any alternative," he adds. "For consumers, this merger will super-charge the ULCC model. Together, Frontier and Spirit will offer even more ultra-low fares to more people and more places and deliver $1 billion in annual savings for consumers."
"For the competition, the dominant 'big four' airlines and other high-cost airlines like JetBlue will be faced with a true nationwide ultra-low fare competitor," Biffle adds.
Frontier on 7 February bid to purchase Spirit with cash and stock that, at the time, was worth about $2.9 billion. The deal called for Frontier to compensate Spirit shareholders $2.13 and 1.9 shares of Frontier stock for every share of Spirit.
But on 6 April, New York-based JetBlue Airways swooped in with a competing all-cash offer to buy Spirit. JetBlue offered to purchase all Spirit shares at $33 each, which equates to a purchase price of $3.6 billion.
Spirit has said it is considering both offers, but called JetBlue's bid a likely "superior proposal".
At the end of March, Frontier had an all-Airbus fleet of 112 aircraft - 75 A320neos, 16 A320ceos, and 21 A321ceos. The airline took delivery of two A320neo aircraft during the quarter and has four planned deliveries during the second quarter. It has commitments to purchase an additional 232 aircraft that have delivery dates through 2029, including 74 A320neo aircraft and 158 A321neo aircraft.