JetBlue Airways has launched another push to take over Spirit Airlines by urging the low-cost carrier's shareholders to vote against a planned acquisition by Frontier Airlines.
New York-based JetBlue has also revised its offer to purchase Spirit, and is now offering to buy the airline for $3.3 billion, or $30 per share.
JetBlue previously offered to buy Spirit for $3.6 billion. But in recent months, the value of Frontier's offer has declined due to a drop in its stock value.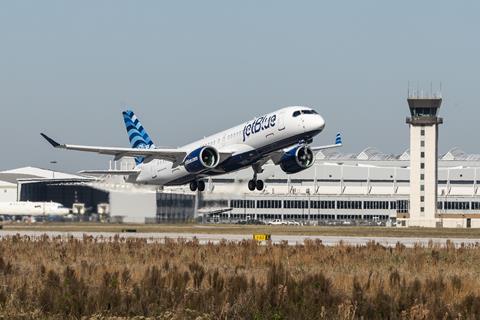 "JetBlue's proposal offers Spirit's shareholders and other stakeholders more value, more certainty and more opportunity," JetBlue says on 16 May. "Spirit's conflicted board rejected JetBlue's clearly superior offer on baseless grounds and refused to engage constructively – depriving Spirit shareholders of more value."
Spirit shareholders are scheduled to vote on the Frontier's proposed acquisition on 10 June.
JetBlue made its offer in a letter directly to Spirit shareholders. Spirit did not respond to a request for comment.
Frontier and JetBlue have been battling to acquire Spirit for months. On 7 February, Denver-based Frontier offered to buy Spirit, based in Miramar, Florida, for $2.9 billion in cash and stock.
JetBlue responded in early April by submitting a competing bid, offering to buy Spirit in an all-cash deal for $3.6 billion, or $33 per share.
But on 5 May, Spirit's board of directors rejected JetBlue's bid in favour of Frontier's offer. The board said a JetBlue-Spirit combination would likely be opposed by antitrust regulators, noting that JetBlue is already under regulatory scrutiny for its joint business in New York and Boston with American Airlines.
The US Department of Justice has sued to block the JetBlue-American partnership, which the airlines call their "Northeast Alliance".
Now, JetBlue is appealing directly to Spirit stockholders with a so-called "hostile takeover" bid.
JetBlue has cut its acquisition offer to $30 per share from $33 due to the Spirit board's "complete unwillingness to share the same necessary diligence information that was shared with Frontier", JetBlue says.
However, JetBlue adds it is "fully prepared" to up its bid to $33 – or $3.6 billion – if it receives the materials from Spirit.
JetBlue also notes that the value of Frontier's offer declined in recent months.
That offer calls for Frontier to pay Spirit shareholders with a mix of cash and Frontier stock, but Frontier's stock price has declined about 32% since Frontier made its offer on 7 February.
As a result, Frontier's offer is worth, based on its latest stock price, $2.04 billion, or $18.81 per share.
JetBlue says it is "confident" regulators will approve a JetBlue-Spirit combination.