Hong Kong Airlines (HKA) has disclosed plans to file for debt restructuring in the Hong Kong and UK courts, in a move that will see the airline cut its fleet by more than half.
In a 27 September statement, HKA says is seeking orders to convene a creditors' meetings to consider and approve a scheme of arrangement in Hong Kong, as well as a UK restructuring plan.
The airline, linked to China's HNA Group, has debts amounting to over HK$49 billion ($6.2 billion), according to a practice statement letter released on the same day.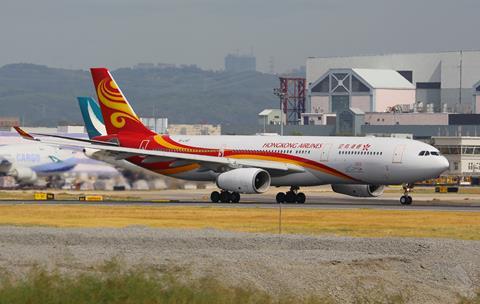 Nearly half of the debts are owed to financial and operating lessors, at around HK$22.5 billion, the letter states. Bank lenders and financial creditors, meanwhile, are owed HK$5.7 billion, while related party creditors are owed about HK$6.8 billion.
The first hearing in the High Court of Hong Kong is set for 13 October, while the first hearing in the High Court of Justice of England and Wales will be held on 25 October.
The airline hopes the restructuring process will help deliver a "strengthened and de-levered balance sheet, with lower overall gross debt", as well as "rationalised rental payments" on a pared-down fleet of 20 aircraft, a significant reduction from the current fleet of 53 jets.
HKA suffered the double whammy of political unrest in Hong Kong in 2019, followed by the collapse in travel demand from the coronavirus pandemic.
In its practice statement letter, HKA says passenger numbers plunged from nearly 6.9 million in the period from February 2019 to January 2020, to around 217,000 in the corresponding period a year later, a drop of nearly 97%.
This has led to a sharp decline in earnings for the embattled airline, which saw revenues tumble 85% during the pandemic.
"As a result of declining revenues, [HKA] has been forced to downsize its workforce by over 65% (from 3,465 to 1,224) between January 2020 and April 2022. [It] has also had to implement cost-cutting measures, meaning that 288 of its employees are on unpaid leave," the airline states.