Indian low-cost carrier IndiGo swung to a net profit in the three months to 31 December 2021, ending a series of loss-making quarters as demand improved amid a Covid-19 recovery that has faltered slightly as 2022 begins.
"I am pleased that we were able to report a profit for the third quarter," said IndiGo chief executive Ronojoy Dutta as the earnings were released on 4 February. "It demonstrates that our business model is fundamentally strong."
A net profit of Rs1.3 billion ($17.4 million) in the carrier's fiscal third quarter was in contrast to the Rs6.2 billion loss recorded for the same period in the previous financial year. The Gurgaon-headquartered carrier achieved a net profit of Rs5 billion in the same period of 2019, before the Covid-19 pandemic hit.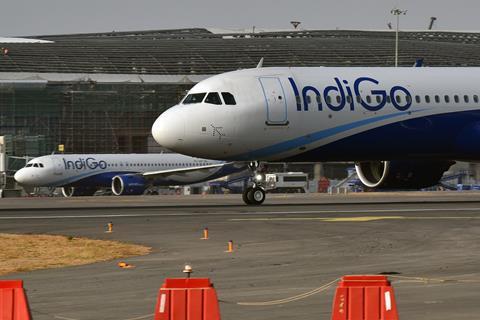 Total income of Rs94.8 billion was up 84% year on year, but down on the last equivalent pre-pandemic figure of Rs103 billion. Costs were up 62% year on year at Rs93.5 billion in the most recent period, compared with Rs97.7 billion in the same period of 2019.
IndiGo says it ended the period with Rs173 billion in cash, which was down from Rs184 billion at the end of 2020 and Rs201 billion at the same point in 2019. Debt – including capitalised operating lease liabilities – was at Rs351 billion on 31 December 2021, compared with Rs277 billion in 2020 and Rs216 billion in 2019.
Capacity of 23 billion available seat kilometres (ASKs) during the quarter was up 50% year on year, as it approached the equivalent 2019 figure of 25.8 billion.
IndiGo notes, however, that its fiscal-fourth-quarter ASKs are expected to drop by around 10-15% compared with the third quarter total. It has previously said that the Omicron variant of Covid-19 was having a short-term demand impact in the first weeks of 2022.
With traffic at 18.3 billion revenue passenger kilometres for the three months, the carrier achieved a load factor of 79.7%. The latter figure was up from 72.0% year on year, but was behind the 2019 figure of 87.6%.
IndiGo says it ended 2021 with 283 aircraft in its fleet, including 56 A320s, 140 A320neos, 52 A321neos and 35 ATRs; a net increase of four aircraft from the previous quarter and a rise of 26 from the same point in 2019.
During the third quarter it operated services to 84 destinations, including 23 international cities.