Indian low-cost carrier IndiGo aims to largely switch to the Airbus A320neo family by the end of the year, and fully exit the baseline A320.
"In line with our fleet modernisation programme, we will indeed replace the A320ceo with A320neos," says airline chief executive Ronojoy Dutta. "We remain firmly on the path of returning most of the [A320ceos] by December."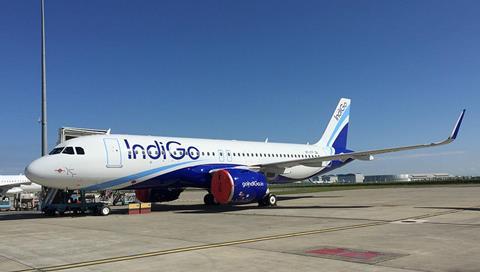 Dutta made the remarks during an analysts' call to discuss the airline's third-quarter results for the three months ended 31 December 2021.
As of 31 December, the airline had 283 aircraft, of which 56 are baseline A320s. The rest of the fleet comprises 140 A320neos, 52 A321neos, and 35 ATRs.
Dutta adds that the integration of more A320neo family jets should help with fuel costs, which he says have been very high.
In its results, the airline revealed that CASK roses 9.6% year-on-year in the third quarter, but CASK ex-fuel fell 11.1%. Overall, its fuel bill nearly tripled year-on-year to INR32.7 billion ($437 million).
Dutta adds, however, that IndiGo's scale means that it can get fuel at a marginally cheaper rate than competitors. In addition, a focus of the airline's flight operations department is decreasing fuel burn on flights.
Dutta also revealed that aircraft utilisation was about 10.7 hours daily in the third quarter, but that this could "easily go up to" 13 hours.
"There's still a lot of headroom left in terms of impeding our capacity, however this requires the international relaxation of restrictions," he says. "It's tough to get to 13 hours with domestic [flights] only, because you're only using [the aircraft] during the day."
IndiGo has enjoyed excellent yields on the limited international flights it is allowed to operate, but Dutta expects yields to soften after international traffic returns in earnest.
Dutta adds that the airline's ability to turn a modest net profit of INR1.3 billion in the third quarter underlines the long-term strength of the Indian air travel market.
The airline is still subject, however, to sharp rises and falls in demand depending on the coronavirus pandemic.
"Unfortunately we are experiencing an unpredictable environment, with traffic recovering and declining in lockstep with Covid cases," he says.
For the fourth quarter to 31 March, he expects revenue to decline, but that revenues will pick up again in the first quarter of its next financial year.
"Once we are able to put the pandemic behind us, we should be able to return rapidly to the path of profitable growth."
INDIGO NAMES RAHUL BHATIA AS MANAGING DIRECTOR
Separately, IndiGo has named one of its founders, Rahul Bhatia, as managing director with immediate effect.
Bhatia states that his role will be "transformational" and help the carrier expand both in India and internationally.
IndiGo chief executive Ronojoy Dutta had this to say about the appointment: "I would describe Rahul as a restless and driven entrepreneur, who is always looking for bigger and improved opportunities in any business or venture. For example, our initiative into cargo, as well as the entire digitisation in the last couple of years were spearheaded by Rahul. We are now entering a new phase in our journey, with more international and long-haul flights. In this evolving and exciting environment, strengthening the thought leadership in the company is a timely and welcome move."