Indian low-cost carrier IndiGo is seeing strong demand on international routes as they start to open up with India's emergence from the pandemic.
This has had a positive impact on the carrier's international yields, says IndiGo chief Ronojoy Dutta.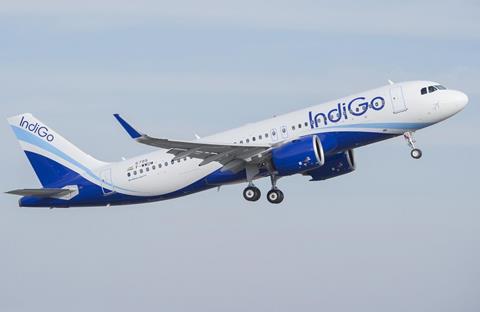 "There clearly is some pent up demand…particularly on international markets, whether its Oman, Kuwait or Dubai…every market that opens up sees a huge surge in demand, and prices are high as a result," he says.
This is supporting ticket prices. Domestically, the airline is also seeing strong demand, but ticket prices are governed by official pricing caps.
He adds, though, that airlines are cognizant of high fuel prices, and behaving "responsibly" from a pricing perspective.
Dutta made the remarks during an analysts' call following the carrier's second quarter earnings, in which operating losses widened to INR14 billion ($187 million) for its second quarter ended 30 September, compared with an operating loss of INR12 billion a year earlier. On the back of an improving Covid-19 situation in India, revenue nearly doubled to INR58 billion.
Dutta is also hopeful that more 'travel bubble' arrangements will be opened up, allowing Indians to travel to more destinations overseas. He understands that negotiations are taking place with Malaysia, Saudi Arabia, and Singapore.
He also disclosed that India's corporate travel market seems to be recovering, hitting 30% of January 2020 levels during the second quarter. The carrier has observed that Indian companies are removing staff travel restrictions as the country emerges from the pandemic, and businesspeople are starting to travel for conferences.
This week's Deepavali holiday will also see significant numbers of travelers.
On the broader sector, Dutta believes that Tata's acquisition of Air India will add clarity to the market. He stressed that he is not aware of what exactly Tata will do, but he believes a major focus will be international travel.
Analysts hold a view that Tata will merge Air India with Vistara, in which it owns a 51% stake – the other 49% is owned by Singapore Airlines. Such a carrier, however, is not a direct rival for IndiGo.
"All indications are there will be a full service carrier that will be focusing a lot on international markets, and markets we don't even in compete in, (such as) London and New York," says Dutta.
Still, he feels the low-cost segment will get more crowded, with start-up Akasa Air set to enter the market, as well as Tata-owned Air India Express and AirAsia India.