LATAM Airlines Group has completed its financial restructuring and has exited bankruptcy proceedings.
The Santiago-based carrier said on 3 November that it emerges from the more than two-year process "with over $2.2 billion of liquidity, approximately $3.6 billion less debt on its balance sheet (equivalent to a 35% debt reduction from the pre-filing period) and the support of key incumbent and new shareholders".
"Today marks an important milestone for LATAM and our stakeholders," says Roberto Alvo, LATAM's chief executive. "We are pleased that we have completed a significant transformation and emerged from our financial restructuring process with a strengthened financial position and a renewed commitment to operational excellence."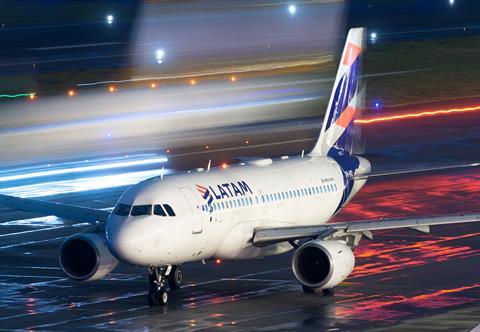 LATAM is the last of three Latin American airlines to complete the process, following Colombia's Avianca and Aeromexico. All three carriers voluntarily filed for protection under the US Chapter 11 bankruptcy scheme in mid-2020, as the rapidly spreading Covid-19 global pandemic caused chaos across the industry. Avianca emerged from Chapter 11 December 2021, and Aeromexico in March this year.
In June, a US court approved LATAM's restructuring plan, which included a $5.4 billion financing package backed by major shareholders – such as Delta Air Lines, Qatar Airways and Grupo Cueto – as well as key creditors, prompting the group to predict an exit from Chapter 11 in the second half of 2022.
The carrier notes that it now operates the "most extensive network in South America". In October it flew to 144 destinations in 22 countries and expects to end the year at "more than 85%" of pre-pandemic capacity as measured in available seat kilometres (ASKs). In 2021 and 2022, the airline added 10 new destinations in Brazil and plans to operate 36 new routes by 2023, it says. It expects to exceed pre-crisis revenue next year as well.
At the end of September, the US Department of Transportation (DOT) gave its long-awaited approval of antitrust immunity to the proposed joint venture between Delta LATAM, allowing the two carriers to "work closely to create the leading airline partnership between the United States/Canada and South America".
The partnership encompasses flights to Brazil, Chile, Colombia, Paraguay, Peru and Uruguay – allowing passengers access to more than 300 destinations across the North and South American continents. It will see the carriers operate flights under each other's identification between, within and beyond their home countries and includes flights operated by Delta Connection's US regional affiliates SkyWest Airlines, Republic Airways and Endeavor Air.
Delta took a 20% stake in the Latin American carrier worth $1.9 billion in 2019.
LATAM Cargo, the airline's freight subsidiary, remains an integral part of the company's operation, LATAM says. It said earlier this year that it expects cargo capacity to rise by close to 40% above pre-crisis level over the next five years and is therefore expanding its freighter fleet to 20 Boeing 767-300F aircraft in 2024 from 11 in 2019.
LATAM has also recently agreed to take a total of 87 Airbus A320neo aircraft, to be delivered by 2029, the airline adds.