Mesa Airlines Group, parent of US regional carrier Mesa Airlines, reports a modest loss in the first quarter of its fiscal year as it prepares to separate from longtime partner American Airlines in favour of a new deal with United Airlines.
The Phoenix-based company, which operates regional routes for United and American and flies cargo for DHL Express, says on 9 February that it lost $9 million during the three months ended 31 December, its fiscal first quarter 2022, compared to $14 million loss in the same quarter a year ago.
The company's revenues also stagnated during the final three months of 2022 as it generated $147 million, down slightly from the previous year when it reported revenue of $148 million.
"It's fair to say we've clearly gone through a rough patch," Jonathan Ornstein, Mesa's chief executive, said during the company's quarterly earnings call on 9 February. "I believe that over time we'll start to see the benefit of all this, and it will all come together in terms of a much more stable operating platform and renewed profitability."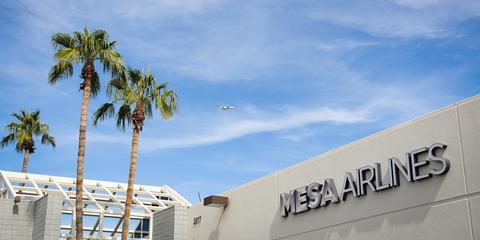 Mesa's 50,940 block hours in the last three months of 2022 represented a 44% decrease from the 86,097 block hours it flew during the same period of 2021. Looking ahead, Mesa anticipates that its block hours will remain flat in its fiscal second quarter.
"Mesa, like many regional airlines, continues to contend with the challenges of the industry-wide pilot shortage on our block hour production," says Brad Rich, Mesa's chief operating officer. "However, we finally have a line of sight to relief."
Mesa's pilot-attrition rate has "come down materially" in recent months to a rate close to pre-pandemic 2019, Rich says, adding that its classes are "filled with a combination of new hires and captain upgrades". The regional is also positioning itself as a pilot pathway to United.
After severing its contract in December, Mesa will cease operating on behalf of American on 3 April 2023. It will operate its current schedule with American through 28 February, then reduce flights by half.
Ornstein has previously disclosed that Mesa was losing $5 million monthly while operating for American, which penalises Mesa for not flying enough block hours. American was also poaching Mesa's pilots to the tune of "50 to 60 pilots a month", he added.
During the last three months of 2022, the regional's completion factor was just under for 98% for American and over 99% for United. "We really want to do a good job right to the last day with American," Ornstein says.
Mesa finalised a five-year capacity purchase agreement with United on 27 December, through which United has agreed to take up to 38 Bombardier CRJ900 jets from Mesa. United is covering the cost of reconfiguring and rebranding the jets.
"We have been working diligently as we prepare to wind down our loss-making operation with American Airlines and transition our CRJ900 flying to United Airlines next month," Ornstein says.
Mesa will begin operating its CRJ900s for United as United Express on 3 March and expects the transition to be fully complete by May 2023.
Meanwhile, United has gained 10% equity in Mesa and a position on the board of Mesa Air Group. Part of United's strategy is increasing service to small- and mid-sized markets across the USA, many of which have suffered from partial or complete loss of air service since the beginning of the Covid-19 pandemic.
As of 31 December 2022, Mesa maintained a fleet of 158 aircraft. Of those, 99 are currently active – 58 E175s and 38 CRJ-900s on behalf of American and United, and three Boeing 737-400Fs for DHL, according to Cirium fleets data.
Mesa recently closed the sale of eight of its remaining Bombardier CRJ-550s to United, the regional carrier disclosed on 9 February.
The airine also plans on opening new bases in Denver and Houston, in addition to its existing flight crew and maintenance based in Phoenix, Dallas, El Paso and Louisville (Kentucky).