US regional carrier Mesa Airlines reported a loss of $35.1 million during its fiscal second quarter of 2023, as the airline worked to cut ties with longtime partner American Airlines in favour of a new deal with United Airlines.
Mesa lost $42.8 million during the same three months ending 31 March of last year.
The Phoenix-based carrier said during its 9 May quarterly earnings call that revenue was $121.8 million, down slightly from $123.2 million last year.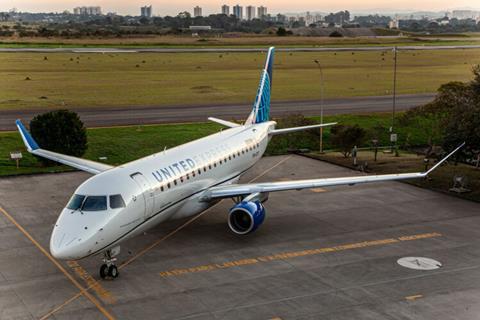 The decreased revenue was due to "deferred revenue and lower block hours", the airline says. The carrier flew nearly 27% fewer block-hours compared with its second fiscal quarter of 2022.
"This is obviously a tough quarter," says chief executive Jonathan Ornstein. "We have a ways to go. United has been extremely supportive in terms of helping us through this."
Last year, Ornstein said that Mesa has been losing $5 million a month operating for American Airlines, which penalised its regional partner for not flying enough block hours, and also poached Mesa's pilots.
Mesa severed its contract with the Fort Worth-based carrier in December and then finalised a five-year capacity purchase agreement with United shortly afterwards.
Previously, the regional carrier had operated on behalf of American and United as American Eagle and United Express, respectively.
Mesa began transitioning its Bombardier CRJ-900s to United in March and stopped operating for American Airlines on 3 April.
The fleet transition has been "a major project for the company", says Michael Lotz, the company's president and chief financial officer. He is assuming expanded duties following the recent retirement of chief operating officer Brad Rich.
"United has never operated the CRJ-900 in their regional fleet," Lotz says. "So everything from seat maps to jetway staging, ground handling procedures and fuelling are all new to the United operation."
To date, 24 CRJ-900s have been transitioned to United.
The total fleet contracted to fly for United will include 80 large regional jets – a mix of Embraer 175s and CRJ-900s, Lotz says. The carrier will also continue operating four Boeing 737s on behalf of DHL.
Mesa's ability to utilise its fleet has been hindered by the industry-wide pilot shortage, which has impacted regional carriers most severely. The airline currently has 37 CRJ-900s and one E175 in storage, according to Cirium fleets data.
However, the company reports that pilot attrition is now near pre-pandemic levels, and it currently has 1,600 new-hire applicants.
"Without legislative action to counter the significant negative impact of the 1,500-hour rule, we are still concerned about the long-term future of regional aviation service to rural America," Ornstein says.
But he notes that the "current industry bottleneck is ensuring an adequate number of qualified first officers upgrade to captain".
"We believe we have a sufficient number of first officers to fill our requirements going forward," Ornstein says. "Without captain upgrades, most airlines find themselves with an imbalance… and have paused hiring first officers."
The regional carrier has benefited in terms of pilot retention from United's "industry-leading pay scale", Ornstein says. "Fewer pilots are leaving to go to other carriers – most notably national and low-cost carriers, which in the past may have offered higher wages."
Through United's Aviate pilot-development programme, Mesa pilots have the opportunity to transition to United within four years, Ornstein says.
Still weathering a period of extended turbulence, the company is now moving in a positive direction, Ornstein says: "While our financial results reflect the ongoing transition of CRJ flying to United, we believe these actions will prove to be the right long-term strategic decision for the company."