Longtime airline executive Andrew Lotter has been appointed vice-president of flight operations for US regional carrier Mesa Airlines.
Phoenix-based Mesa Air Group said on 6 June that Lotter will succeed John Hornibrook, who is retiring from the company. "I am honoured to be a part of Mesa Airlines and look forward to leading the flight operations team," Lotter says.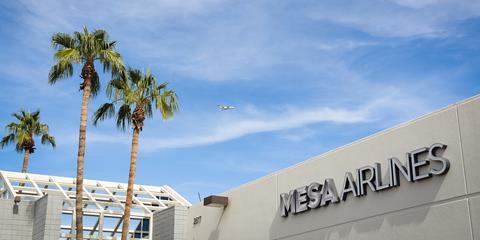 He has 25 years of experience in aviation, holding multiple type ratings and logging more than 10,000h as a pilot. Past positions include chief operating officer for ultra-low-cost carrier Avelo Airlines, president of cargo carrier Ameriflight and most recently vice-president of operations for Omni Air International.
"We are excited to welcome Andrew to Mesa," says Michael Lotz, president of Mesa Air Group. "His in-depth knowledge of flight operations, combined with his proven ability to develop and execute effective strategies, makes him an ideal fit for his new role at Mesa. He is a proven leader with a wealth of operational expertise and a passion for excellence."
Mesa stopped operating for American Airlines on 3 April and has been transitioning its Bombardier CRJ-900s to United Airlines, with which it has a new five-year capacity agreement.
Amid the transition, Mesa reported a loss of $35.1 million during its fiscal second quarter of 2023, and revenue was down slightly to $121.8 million from $123.2 million during the same quarter last year.
The regional carrier has 56 Embraer 175s, 24 CRJ-900s and four Boeing 737s in service, according to Cirium fleets data.