An increase of almost two-thirds in revenues last year over the pandemic-hit 2020 helped Greek carrier Aegean Airlines to cut pre-tax losses to €72.5 million ($79.8 million).
Aegean group revenues jumped 63%, to €674 million, in 2021. More than three-quarters of this revenue was generated between June and October before renewed restrictions related to Omicron were imposed. Revenues though are still at only around half pre-crisis levels.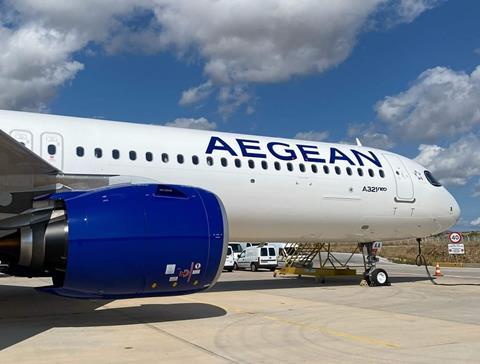 Passenger numbers jumped 2 million to 7.2 million across 2021, split almost equally between domestic and international traffic.
This improved environment enabled Aegean to cut pre-tax losses from €297 million in 2020 to €72.5 million. This was again driven by its third-quarter performance, which marked Aegean's first quarter in the black since the pandemic. After one-off items, including the granting of EU state aid to partially offset 2020 losses, Aegean posted a non-headline pre-tax loss of €9.3 million for the year.
Aegean Airline chief executive Dimitris Gerogiannis says: "In 2021 Aegean has effectively managed its network and its fleet, has strengthened its capital base, and has further improved its cost structure. However, the significant recovery that was recorded between June and October was interrupted by the Omicron variant, which has affected the activity and demand from November 2021 onwards."
While noting further strong recovery in Greek tourism is expected this year, Gerogiannis flags the impact of uncertainties following the Russian invasion of Ukraine, including around fuel prices.
"The group has accelerated its investment program in new technology aircraft which will reduce the impact of the increase of fuel prices and plans new destinations, new services and products as well as the gradual restoration of the capacity to reach the pre-pandemic levels for the summer period," he says.
"For a third consecutive year, the flexibility and adaptability to the volatile market conditions will continue to be very critical."