US regional carrier Trans States Airlines, which operates Embraer 145s for United Airlines, will shutter operations by the end of 2020.
The news, detailed in a leaked Trans States memo and confirmed by United, comes as another United regional affiliate, ExpressJet Airlines, discloses plans to add 36 ERJ-145s to its fleet. ExpressJet will also divest its E175s, becoming an ERJ-145-only carrier.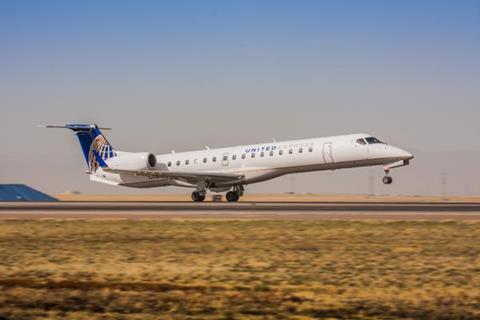 "Last year was an exceptionally challenging financial year and early indications point to 2020 continuing down the same path," the Trans States memo to employees, leaked on 24 February, reads. "In short, our expenses continue to rise, resulting in a balance sheet that is neither profitable nor sustainable."
Trans States, which according to Cirium fleets data provides feeder services to more than 80 cities in North America with about 240 daily flights, did not respond to multiple requests for comment. It operates for United from hubs at Chicago and Denver, as well as its secondary hub and corporate headquarters at St Louis, with an all-jet fleet of 46 Embraer ERJ-145s.
Trans States is owned by Trans States Holdings, which also owns Compass Airlines and GoJet Airlines.
Those carriers did not respond to requests for comment, United says its "relationship with [GoJet] will continue".
"We are hopeful that… their unions come to an agreement, and that many Trans States pilots find a home at GoJet," United's statement says. "They also have significant pilot recruiting efforts underway, and a brand-new aircraft type to appeal to aspiring pilots."
GoJet operates for United and Delta Air Lines, while Compass flies for American Airlines and Delta.
The Trans States memo says United expressed a desire to "simplify the Embraer 145 programme by consolidating flying". In addition, the company cites a pilot shortage as reasons it will cease operations.
"We have come to the extremely difficult decision that an organised and well-planned wind-down of the Trans States operation is the most viable course of action," the memo says.
"Trans States Airlines still has an extremely important role to play in the United network throughout the remainder of 2020, but you will see a measured reduction of aircraft come off-line before the start of summer flying," the memo says. "United is counting on us to operate a significant number of aircraft throughout the summer, after which aircraft transitions will resume at a yet-to-be-determined-rate through end of the year, with all flying to be concluded by the end of 2020."
ExpressJet, meantime, serves more than 100 destinations in the USA, Canada and Mexico, with more than 3,300 weekly flights from bases in Chicago, Houston and Newark.
"We have made the long-term commitment to the Embraer ERJ-145 and designed the comprehensive cabin, seat and entertainment upgrade to deliver a contemporary customer experience," says United Express senior vice-president Sarah Murphy on 24 February. "We're confident that our partners at ExpressJet can execute that vision."
The regional carrier says it will add crews to several bases and facilities and phase out E175s in order "to speed up growth and become and efficient single-fleet airline".
ExpressJet currently operates 95 ERJ-145s, along with 25 E175s.