ExpressJet Airlines says it will resume service "within the quarter" after the US Department of Transportation (DOT) granted the regional carrier permission to restart commercial operations under its own brand.
Atlanta-based ExpressJet had shuttered in September 2020 after United Airlines terminated its exclusive flying agreement with the airline. It applied to the DOT for recertification on 15 April, saying at the time it planned to fly point-to-point routes to underserved cities that had lost air service "as a result of US airline industry consolidation and Covid-19-driven route reductions".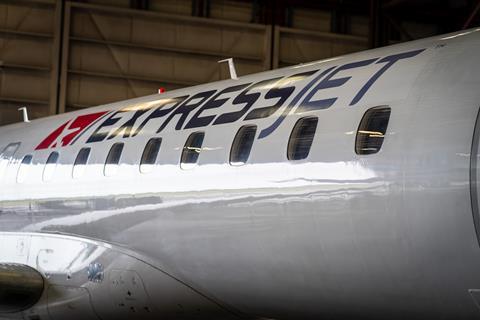 "ExpressJet expects to resume service within the quarter with a focus on cities, markets, and customers that have seen diminished air service as a result of airline consolidation and an industry trend towards larger aircraft," the carrier writes on its website on 30 July.
"ExpressJet will leverage its 35-year history of having flown several hundred aircraft to most of America's smaller airports and intends to provide high-quality, reliable, efficient point-to-point flying service in small and abandoned markets with unmet customer needs - avoiding needless overlap with the major airlines and ultra-low-cost carriers," the airline adds.
The fleet consists of a single leased Embraer ERJ-145 with tail number N844HK, a 17-year-old airframe with 50 seats that is currently in storage, according to Cirium fleets data.
In its April filing, the airline said it expects to spend $60.4 million in its first year of operations, beginning in May. It anticipates carrying 400,000 passengers during that year, and ramping up to 261 employees. ExpressJet aims to operate 1,500 flights monthly by April 2022.
On its website, the airline now says that its certificate allows it to fly the ERJ-135, E170, E175, E190, as well as the MHIRJ CRJ200, CRJ700 and CRJ900 regional aircraft "at short notice". It adds that it will announce "more detailed flying plans in the coming weeks".
ExpressJet, which flew exclusively on behalf of United Airlines as United Express, said in August 2020 it would cease operations at the end of the following month and lay off most employees. The move came after United's decision to consolidate ERJ-145 flying with Cleveland, Ohio-based CommutAir. ExpressJet had no other airline customers.
In late 2020, ExpressJet worked to return 130 aircraft and related equipment and engines to United. It finalised a new business plan in January.
ExpressJet is 100% owned by ManaAir, of which United owns 49.9%.