Transat AT, the parent company of Canadian leisure airline Air Transat, continues to struggle as its operations remain suspended amid uncertainty about when Canada will lift its pandemic-driven travel restrictions.
The Montreal-based airline, which effectively shuttered operations in January but hopes to restart in July, lost C$69.6 million ($57.5 million) in its fiscal-year second quarter, which ended in April, Transat reports on 10 June. It booked just C$7.6 million in revenue during the period.
"Following a quarter without revenues, progress made on vaccinations allows us to plan for a gradual resumption starting July 30," says chief executive Annick Guerard. "We hope that a safe travel recovery plan can be deployed as soon as possible and will lead to a lifting of restrictions in the near future."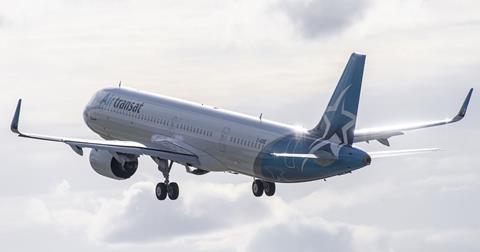 Airlines in Canada have been clamouring for the government to issue a re-opening plan after a government health board last month deemed the current quarantine measures ineffective. While vaccination roll-out started slow, it has increased rapidly across Canada in the past weeks, giving the air transport industry hope that measures will soon be eased.
"In the current situation, despite some encouraging signs such as the increase in the rate of vaccination, it remains impossible for the moment to predict the impact of the Covid-19 pandemic on future bookings, the partial resumption of flight operations and financial results," the airline says.
"When [we] look at our numbers, we see 2022 will be another difficult year for us," Guerard adds.
Transat's quarterly results call was the first for Guerard as CEO. She took the role in May when longtime former CEO Jean-Marc Eustache retired.
Eustache was the second Canadian airline chief to step down this year. Air Canada's Calin Rovinescu retired in February. Earlier this week, Canada's number-two airline, Calgary-based WestJet, said its CEO Ed Sims will leave the company in December.
BROKEN ENGAGEMENT
Vacation package specialist Transat has been struggling financially for some time, with the global health crisis exacerbating an already difficult situation.
In April, the carrier broke off a planned combination with cross-town rival Air Canada. The deal, announced in 2019, was approved by shareholders twice – as conditions of the deal, including the share price, had changed – but was then shot down by the European Commission over competition concerns.
After the deal fell apart, Canadian billionaire investor Pierre Karl Peladeau, who had allegedly made a separate offer to buy Transat earlier in the year, reportedly retracted his offer.
In late April, Transat reached an agreement with the government to borrow up to C$700 million to help weather the pandemic and its after-effects. Earlier in the month, Air Canada had said it had secured C$5.9 billion in federal government funding.
The "fully repayable" funds in the Transat package included C$390 million "needed to support Transat until its business has recovered to a level where it can generate cash once again", the airline said at the time. Another C$310 million was set aside for the purpose of reimbursing customers for tickets on flights cancelled by Transat since the beginning of the pandemic.
"The financing we secured will allow us to roll out our plan over the coming years," Guerard says. She explains that the company's long-term strategic plan calls on stabilising the company in 2021, returning to profitability by 2026 and beginning to grow again thereafter.
"We need to refocus and put all energy in becoming much better as an airline company," she says.
Canadian airlines have suffered under travel restrictions that the federal and some provincial governments imposed to mitigate the risk and spread of the coronavirus.
In January, the government asked Canadian airlines to temporarily suspend flights to southern beach and resort destinations in the USA, Mexico and the Caribbean – places popular with Canadians during the country's long winters. That move devastated carriers' usually lucrative spring break business.
The Canadian government has also required inbound travellers to stay in hotels for three days after arrival.
On 9 June, the government said it is considering lifting the hotel quarantine requirement for vaccinated travellers in favour of a more-rigid testing protocol and shorter home quarantines. There has been no indication of when the country will allow free movement for travellers making non-essential trips.
"We definitely need a clear plan from the federal government to know what the next steps are so that we can plan our reopening in an efficient way," Guerard says.