A six-month operational pause left Transat AT with another quarter lacking significant revenue, though more cash has been flowing in since subsidiary Air Transat restarted flights at the end of July.
Montreal-based Transat lost C$138 million ($110 million) in its fiscal-year third quarter, which ended in July, booking C$12.5 million in revenue during the three-month period, the airline company reports on 9 September.
During Transat's fiscal second quarter, which encompassed February, March and April, the airline booked just C$7.6 million in revenue.
"We have good reasons to believe that we have seen the worst of the pandemic, and that the situation will improve from here," Transat chief executive Annick Guerard says. "This will hopefully will remain Transat's last quarter with close to no revenue."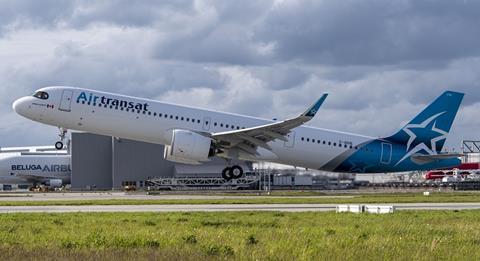 Air Transat ceased flights at the end of January after the Canadian government of Justin Trudeau asked the country's airlines to suspend operations to southern beach and resort destinations – places popular with Canadians during the country's long winters. That move devastated carriers' usually lucrative spring break business, hitting leisure carrier Air Transat particularly hard.
The airline remained shuttered until the end of July due to federal and provincial travel restrictions that continued making travel difficult and complex. It was the carrier's second pandemic-driven shutdown since the global health crisis began in March 2020.
Those restrictions on free movement began to lift in July, and by early September Canada had fully reopened to fully vaccinated international visitors.
"We're very pleased we were able to resume operations as scheduled on July 30 and move into the restart phase where our activities can gradually expand, and particularly as we look forward to a winter season that promises to be much busier than the last one," Guerard says. "While we must continue to exercise caution given the evolving health situation, and although a full return to normal is still some time away, we're very keen to get the crisis behind us."
"The level of bookings that we have observed so far is encouraging, we are seeing a definite recovery in demand, first on domestic routers but also on some key international routes," says Guerard.
It was Guerard's second quarterly earnings report after rising to the airline's top job in May. She succeeded longtime CEO and Transat co-founder Jean-Marc Eustache on 26 May.
RESTARTING OPERATIONS
Transat is recalling and retraining staff as it returns aircraft to service in preparation for the crucial winter travel season, Transat says. The airline restarted with 10 flights weekly and plans to operate 50 flights weekly in September and 70 weekly in October.
"People are still cautious, and they decide [to travel] at the last minute, but it is very clear that they are eager to travel," Guerard says.
The carrier is now only operating Airbus A321s, which Guerard calls a "game changer". Transat has 17 in its fleet and seven more on order with Airbus, with deliveries scheduled for between 2022 and 2024.
"The A321 is the key, key, key asset for us in the recovery and the execution of our plan," Guerard says. "It allows us… a lot of flexibility and gives us a strong competitive advantage in North America."
The carrier also has 15 A330 widebodies.
Transat is looking at potential partnerships with other airlines – a strategy aimed at helping it expand in the post-pandemic environment, executives say.
The airline has been talking to potential partners "for many months" and expects to announce "more than one" bilateral agreement in the coming weeks.
"We think Transat is a gem" that will complement other airlines' networks, Guerard says.
The airline accepted C$700 million in federal financial support earlier this year to help weather the pandemic. The funds included C$390 million "needed to support Transat until its business has recovered to a level where it can generate cash", the airline said at the time. Another C$310 million was set aside to reimburse customers for tickets cancelled by Transat during the pandemic.
Transat has so far reimbursed 90% of customers who requested refunds, Guerard says.