Canadian airlines are welcoming the goverment's plan to create a digital vaccination passport for international travellers, to be rolled out within weeks.
"We fully support the federal government's on-going engagement with provincial and territorial authorities to develop a standardized vaccination credential, and encourage all levels of government to work as effectively as possible to meet an early fall release date," Mike McNaney, chief executive of the National Airlines Council of Canada (NACC), says on 11 August.
"Proof of vaccination is going to be a critical component of international travel and recovery of the travel and tourism sector," he adds.
NACC represents Canada's major carriers including Air Canada, WestJet, Air Transat and Jazz Aviation.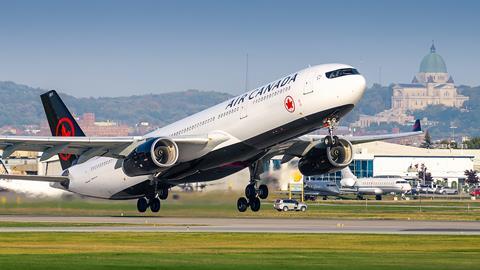 Earlier in the day the federal government of Justin Trudeau said that it is collaborating with provinces and territories to develop a proof of vaccination "that will facilitate cross-border travel, while reducing the risk of spread and importation of Covid-19" as Canadians once again begin to venture abroad.
"Our work with the provinces and territories to provide a consistent proof of vaccination is a key step forward in ensuring Canadians will have the documents they need once it is safe to travel again," Marco Mendicino, minister of immigration, refugees and citizenship said. He added that the government is also working with ICAO and the World Health Organisation to set up the next phase of this plan.
The government says the credential will be "internationally recognised" and will likely be digital. It is expected to be available to all Canadians "early this fall".
"For Canadians who decide to travel, using a proof of vaccination will provide foreign border officials with the vaccination history needed to assess whether a traveller meets their public health requirements and provide a trusted and verifiable credential for when they return home," the government added.
Proof of vaccination is a hot topic as passenger air travel slowly recovers from the more-than-year-long coronavirus crisis. So far it has been impossible to find a globally accepted and feasible way to document a traveller's immunisation status.
In July, IATA said that more than 70 airlines are at various stages of trialling its "Travel Pass", a mobile application developed to help smooth the processing of passengers' travel health credentials. IATA developed the Travel Pass to help digitally manage the verification of passengers' Covid test and vaccine status, in an effort to minimise additional processing time given the added health criteria requirements needed for travel since the pandemic.
The US government has ruled out a passport-like document or credential for its citizens.