Mexican ultra-low-cost carrier Volaris reports strong earnings during the third quarter of 2021 as tourists flocked to the country in greater numbers, and more domestic passengers chose to travel by air.
The Mexico City-based airline says net profit rose to Ps1.5 billion ($73.9 million) during the three-month period that ended on 30 September, more than doubling its profit of Ps713 million in 2019.
The carrier says revenue rose 35% over 2019 levels, to Ps12.8 billion, due to "higher capacity, healthy load factors and stronger unit revenue per passenger".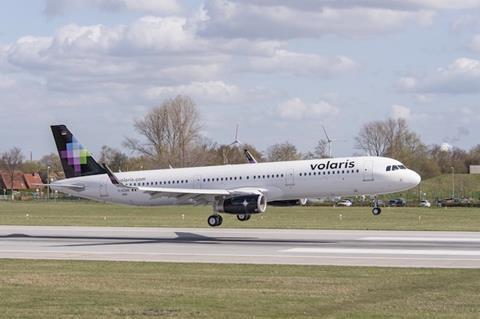 "We demonstrated, again, Volaris' agility and ability to adapt to a challenging demand environment by redeploying capacity to the appropriate markets and by stimulating demand," says chief executive Enrique Beltranena. "Moreover, we delivered strong quarterly results in line with the ambitious goals we had set for the third quarter. Our ultra-low-cost business model has proven resilient in difficult times and continues to have significant room for further growth."
Though the figures were positive, the more-virulent Delta variant of the coronavirus did also played havoc with the second half of the quarter, Volaris says.
The airline transported 6.7 million passengers during the period that ended on 30 September, with 19% more domestic passengers and 17% more international passengers than in the same period in 2019. Load factor reached 85.4%.
"Despite of the recent headwinds of Covid-19, we expect to continue with our disciplined growth strategy for the rest of the year and 2022," Volaris says.
The airline is targeting available seat mile growth of between 26% and 29% in the fourth quarter of 2021.
The company added two new Airbus A320neo aircraft to its fleet during the third quarter, bringing the number of aircraft to 94 - six A319s, 72 A320s and 16 A321s. Some 40% of those aircraft are the more efficient Neo models.
The company says it will end the year with 101 aircraft, and it will have 113 aircraft at the end of 2022.
According to Cirium fleets data, the airline has another 98 aircraft on order from the Toulouse-based airframer.
Volaris will give more details on its quarterly earnings on a webcast scheduled for 22 October.