Airbus has outlined an aggressive recovery course for single-aisle family production, advising suppliers to prepare for an upward trajectory to reach a monthly rate of 64 A320neo-family aircraft within two years.
It has set the "firm rate" target for the second quarter of 2023, after confirming that it will raise monthly production of the type to 45 by the end of this year.
Airbus's 64-per-month figure would exceed the level of 63 the manufacturer had planned to reach in mid-2021.
The airframer has also asked its supply chain to adjust operations to allow a further rise to 70 aircraft from the first quarter of 2024 and is even looking at hiking this to 75 by 2025.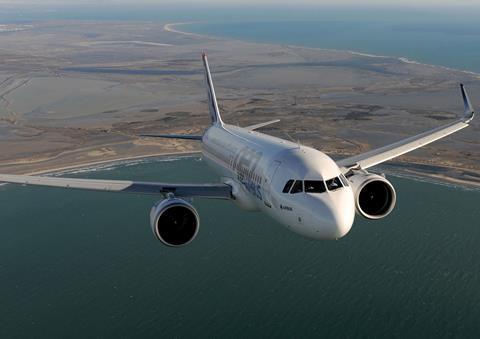 But the timeline for recovery in the long-haul sector remains uncertain. Although Airbus aims to lift monthly A350 production from five to six aircraft, the airframer is vague with the timing, saying only that it will occur by autumn 2022.
Airbus is also leaving A330 production unchanged from its level of just two aircraft per month.
Chief executive Guillaume Faury says the supply-chain notification "provides visibility" to the company's industrial partners, allowing them to take the steps necessary to reverse the output cuts made during the depths of the air transport crisis.
"We are transforming our industrial system by optimising our aerostructures set-up and modernising our A320-family production facilities," he adds. "All these actions are set in motion to prepare our future."
Airbus expects the commercial aircraft market to recover to pre-crisis levels over 2023-25.
As part of the production revision it is also planning to raise A220 output from the monthly rate of five aircraft to six early next year.
Airbus says this rate could more than double to 14 by the middle of the decade. The airframer has previously stated that a substantial hike in production, towards 170 aircraft per year, is necessary for the programme to reach the break-even point and shift into profitability.