Airbus chief executive Guillaume Faury has revealed signs of irritation over apparent supplier concerns with single-aisle ramp-up targets, stressing that the airframer has been transparent over its production-rate plans.
The airframer brought monthly A320-family production down to just 40 aircraft last year but is intending to take this output to 64 by mid-2023.
Faury pointed out, in a 29 July half-year briefing, that the A320 backlog – which stood at 5,666 aircraft at the end of June – amounted to over a decade's production at current rates.
"You can imagine that customers who have an A320 or A321 in the backlog today don't want to wait 12 or 15 years," he says. "We obviously need to go significantly above [60 aircraft per month] to serve the backlog."
Faury says the airframer has been deliberately transparent on ramp-up rates because it wants the supply chain to be fully prepared.
"I'm really disappointed to see some [of our] usual partners are still challenging the rate," he says. "They were challenging [the rate of 40] a year ago."
While he has not identified the partners in question, engine manufacturer Safran, which builds the CFM International Leap-1A powerplant, has expressed concern that some of Airbus's targets are too ambitious. US firm Raytheon Technologies, which owns Collins Aerospace and Pratt & Whitney, also recently disclosed similar reservations.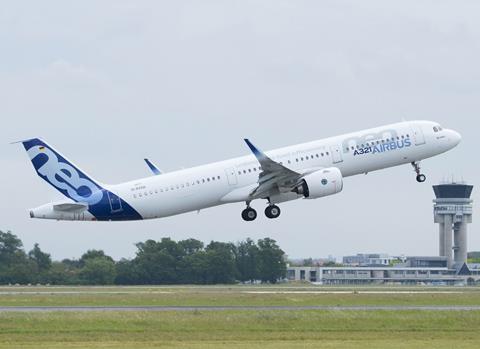 Airbus is keen to put single-aisle production back on course after the severe disruption to its commercial aircraft activity.
Chief commercial officer Christian Scherer disclosed in mid-June that Airbus had made an "unprecedented" industrial and commercial adjustment in response to the crisis created by the pandemic.
Scherer says almost every customer contract was reviewed and 80% of aircraft slots were amended.
Chief financial officer Dominik Asam, also speaking during the half-year briefing, stated that Airbus had insisted on "preserving" pre-delivery payments during the backlog renegotiations, so that while aircraft deliveries were deferred "to the right", the customer payments were not.
"We felt it important to ensure that deferrals were underpinned by [pre-delivery payments] so we've not been forthcoming with returning [those payments] to customers," he says. "We felt it was prudent to do that."
Asam stresses that customers have been "very much compliant" with making those payments – although this means Airbus will be facing "several quarters" with the "headwinds" of lower payments because the customers are ahead of the delivery schedule.
The customers' adherence to the payment terms shows they are "signalling to us that they really want to take delivery of [aircraft] on time," says Faury, stressing the importance of ensuring that the ramp-up trajectory is met.
Faury says Airbus has given a "firm rate" to its supply chain through to 2023, and he expects the suppliers to respond, given that the company had already been running close to a monthly output of 64 A320-family jets at the point when the pandemic emerged.
He says this previous preparation means the system should already be capable of restoring such rates, and more quickly than suppliers originally took to establish them.
Airbus has also told suppliers that it wants to explore the "uncharted territory" of higher production rates – possibly as many as 70 aircraft per month from early 2024, and 75 from 2025 – but this remains the subject of an assessment.
It has resumed work to establish a new A320 production line at Toulouse to help meet the backlog demand. Over the first half of the year Airbus recorded a positive earnings effect of €172 million mainly reflecting the release of provisions on the former A380 facility which will be used for this modernised A320 line.