UK-based aerospace company Meggitt has signed a component support contract with China Southern Airlines Group for CFM's Leap-1C engine parts.
The three-year agreement, signed at the 2021 edition of Airshow China in Zhuhai, will see Meggitt provide warehousing and logistics support to China Southern Airlines Group Import and Export Trading.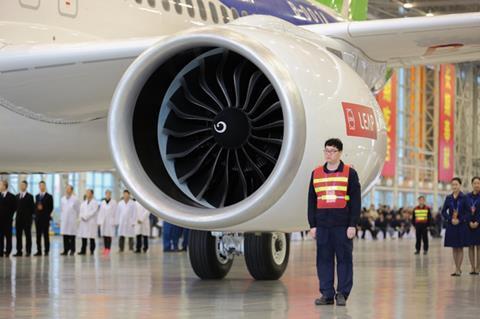 China Southern will house a pool of Meggitt engine sensors and heat exchangers for the Leap-1C, which will power the in-development Comac C919 narrowbody. The component pool will allow China Southern to "dispatch to customers directly, in case of an aircraft-on-ground incident", says Meggitt.
Separately, Meggitt announced that its joint venture with MRO partner Lufthansa Technik (LHT) Shenzhen has received regulatory approval for repair for Meggitt fire detector products.
The green light from the Civil Aviation Administration of China (CAAC) comes about two years since Meggitt and LHT Shenzhen entered into the partnership. It will authorise LHT Shenzhen to perform MRO services on Meggitt fire detectors on Chinese-registered aircraft at its Shenzhen facility.
"The LHT Shenzhen facility will also act as a dedicated warranty centre, working closely with Meggitt's services & support team in Singapore, to enhance the support for customers in Mainland China," the company states.
Meggitt adds that it expects CAAC approval for repair of other components, such as valves, heat exchangers, as well as fire extinguishers.
Adrian Bunn, senior vice president and general manager, Asia-Pacific at Meggitt's services and support unit, notes that the Chinese market is "such an important market for us".
"We are delighted to be working with China Southern Airlines Group Import & Export Trading to support AOG activities in the region. Through this agreement we are better able to service the needs of our growing customer base, ensuring swifter turnaround times and more efficient operations. Together with the MRO services we can now offer from our newly established LHT partnership in Shenzhen, we look forward to building even stronger relationships with our Chinese customers and business partners over the years to come," he adds.